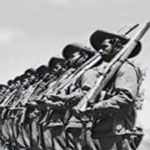 Timeline to Justice
There were many important events, both in Australia and internationally, that contributed to the ultimate success of the 1967 Referendum.
1850s to 1901 " The Right to Vote
Aboriginal people were classed as British subjects, and Aboriginal men were legally entitled to vote in South Australia, Victoria, New South Wales and Tasmania. In 1894, when women were given the right to vote in South Australia, Aboriginal women were also eligible to vote.
1901 " Federation
The nation of Australia was formed when six separate colonies became states and became a single nation " the Commonwealth of Australia, under the Commonwealth of Australia Constitution Act 1900,
Due to discriminatory interpretations of the Constitution, Aboriginal people were no longer permitted to register to vote.
1914-1918 " the First World War
Although Aboriginal people were not legally recognised as Australian citizens, around 300 to 400 Aboriginal people signed up to the armed forces. White and black Australians fought side by side and friendships were formed, and this helped to break down many racial barriers and prejudices.
Unfortunately, when the war was over, the contribution of many Aboriginal war veterans to the war effort were not recognised. Returning Aboriginal soldiers found themselves once again facing racism and discrimination, as they once again became non-citizens.
1919 " The Treaty of Versailles
Following World War I, the Treaty of Versailles was signed as part of peace negotiations with Germany. Part of this treaty was the establishment of the League of Nations " an international peace-keeping body (now known as the United Nations), and the International Labour Organisation, which was set up to promote social justice and internationally recognized human and labour (working) rights. However, Indigenous Australians continued to be discriminated against in the workplace.
1920s " Associations Formed
The Association for the Protection of Native Races, which was originally in 1913 but ceased to function in 1925, was reactivated in 1927 after a massacre in East Kimberly, WA, where a group of Aboriginal people were killed by police.
In 1928, the Association called for a Royal Commission on the Constitution, to give the Commonwealth control over Aboriginal affairs.
In 1924, the Australian Aboriginal Progressive Association (AAPA) was formed under the leadership of Aboriginal activist Fred Maynard. The aim of the AAPA was to raise awareness of the many struggles that Aboriginal people were facing. Sadly, the organisation folded in 1927, due to constant police harassment.
1930s " The Depression
During the Depression, workers travelled across Australia, looking for any work they could find. Unemployed Aboriginal people are denied government assistance. Many unemployed white activists formed alliances with Aboriginal activists. This helped many Aboriginal people gain greater political awareness.
Aboriginal activists including Tom Peckham, Ted Taylor, Pearl Gibbs, Jack Patten and Bill Ferguson were active at this time, and were involved in strikes, stop-work meetings and protests around NSW.
1932 " The Australian Aborigines League
William Cooper founded the Australian Aborigines League (AAL) in Melbourne " the first Aboriginal organisation with all Aboriginal members. The League's aims were to improve Aboriginal living conditions and grant Aboriginal people the human and civil rights they were being denied.
1933 " Petition to the King
William Cooper launched a petition to King George V, asking for Aboriginal representation in Federal Parliament. The Australian Government refused to forward the petition on.
1937 " The Aborigines' Progressive Association
The Aborigines' Progressive Association (APA) was formed in NSW by William Ferguson and Jack Patten. The APA had three aims " full citizenship rights for Aboriginal Australians, Aboriginal representation in parliament and abolition of the New South Wales Aborigines Protection Board.
1938 " Day of Mourning
The APA and the AAL organised a National Day of Mourning and Protest in Sydney on January 26, 1938 " the 150th anniversary of white settlement. Only Aboriginal people were invited to attend. A manifesto written by Jack Patten and William Ferguson, entitled Aborigines Claim Citizenship Rights, was read at the event, in which they appealed for a new Aboriginal policy, full citizenship status, equality and land rights.
Five days later, on January 31, William Ferguson and other APA members met with the Prime Minister of the time, Joseph Lyons. They presented him with a 10-point plan for achieving Aboriginal equality. Their proposals were ignored by the government.
1939-1945 " The Second World War
Aboriginal people once again enlisted to fight for their country, as did Torres Strait Islanders. Once again, there was no recognition given to returning Indigenous soldiers or their families.
1945 " The United Nations
The United Nations (UN) is formed and a charter drawn up following World War II. One of the main aims of the UN was to aid in human rights. Australia was one of the founding members of the UN.
1949 " More Voting Rights
The Commonwealth Electoral Act extended voting rights to Aboriginal and Torres Strait people who were members of the Defence Forces.
1956 " The Melbourne Olympic Games
The Olympics brought international attention to Australia, and to Australia's treatment of its Indigenous people.
1957 " Two steps forward
White Australian activist Jessie Street campaigned for a referendum for including Aboriginal people on the national census. She circulated a petition, which was read in the House of Representatives on May 14, 1957.
Also in 1957, internationally acclaimed artist Albert Namatjira and his wife Robina were granted special citizenship rights. Actor Robert Tudwali, who starred in the film Jedda, was also granted citizenship rights in 1957.
1958 " FCAATSI is formed
The Federal Council for the Advancement of Aborigines and Torres Strait Islanders was formed in 1958. FCAATSI worked with a number of other Indigenous and non-Indigenous organisations to campaign for a referendum on Aboriginal issues. A petition was circulated to be presented to Parliament.
1962 " More Voting Rights
The Commonwealth Electoral Act gave Aboriginal people in all States except Queensland the right to vote. Queensland did not grant voting rights to Aboriginal people until 1965.
1965 " The Freedom Rides
Inspired by the civil rights movement of blacks in America, a group of Indigenous and non-Indigenous students led by Aboriginal activist Charles Perkins drove around to country towns in NSW to protest against segregation and the poor living and working conditions of Aboriginal people. The Freedom Rides, as they came to be called, brought national and international attention to Australia's treatment of its Indigenous people, and force many towns to improve their treatment of Aboriginal people.
1966 " Wave Hill Strike
The Gurindji people, who worked on Wave Hill cattle station in the Northern Territory, went on strike, demanding wages and a return of some of their traditional lands. Led by Gurindji man Vincent Lingiari, they set up their own camp on their traditional lands at Wattie Creek. Their demands were initially refused, by the Gurindji remained on their lands and support for their campaign began to grow. Eventually the Gurindji won title to part of their land.
Also, the United Nations' General Assembly approved two Covenants " the International Covenant on Civil and Political Rights, and the International Covenant on Economic Social and Cultural Rights.
Sir Harold Holt also succeeded Sir Robert Menzies as Prime Minister. As Prime Minister of Australia he signed the United Nations International Accord for the Elimination of All Forms of Racial Discrimination. This meant that he was required to abolish the White Australia policy.
1967 " The Referendum
With the mounting public support and pressure for a referendum, Prime Minister Holt finally gave in, and called a referendum in 1967. An overwhelming 90.7 per cent of Australians voted yes to change the Constitution to allow the Commonwealth to make laws for Aborigines and to include them in the census.