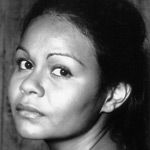 Deadly Vibe Issue 113 July 2006
Who's That Girl?
When Ursula Yovich takes the stage, people sit up and take notice.
She's one of our sweetest sisters, and she's also one of our most talented. Ursula Yovich has emerged as one of Australian theatre's most impressive young actors, and her recent appearance in Company B's production of Capricornia only further confirms that this young woman is a talent with a huge future.
Ursula plays Tocky O'Cannon, a 14-year-old "half-caste" who lives in a compound with other half-caste children. When she is forced to move to a mission, she runs away in an attempt to make her way home.
"Tocky is very young, very innocent," says Ursula. "But she's also extremely vibrant, and full of life."
This isn't the first time Ursula has played a teenager. In fact, it seems to have become something of a regular gig. Most recently she play a 14-year-old pregnant runaway in Nailed, a production by the Griffin Theatre Company, and prior to this she played a teenager in the singing sisters Belvoir Street Theatre smash, The Sapphires.
"Yeah, I do seem to get cast as a teenager a lot," Ursula says. "And in the past I've said that I'd like to explore more mature roles. But Tocky is on a very clear journey, and it's such a dramatic piece. I love it. In fact, it's the first time I've ever felt so strongly about a role."
Tocky begins a relationship with Luke Carroll's character, Norman, which is something of a departure for the two, who have appeared in dozens of productions together in the past.
"Usually when Luke and I are in production together, we play brother and sister," Ursula says. "This time we play lovers, and I can tell you – it felt pretty weird at first. I was adamant that there would be no kissing!
"But seriously, Tocky and Norman's relationship is very nurturing and gentle. It's a very innocent and loving relationship."
Capricornia is an almost three hour production, and Ursula and Luke are on stage for most of this time.
"It's very draining," Ursula says. "Emotionally as well as physically. It was quite an emotional rollercoaster for me, especially at first."
The themes of identity and racism that Capricornia deals with are themes that resonate with any Aboriginal person, Ursula included.
"The racism that features in the play is the sort of racism that existed in the 1930s," she says. "Mostly it came out of ignorance. Terms like 'half-caste' were offensive, but people weren't so aware that they were offensive. Of course, racism basically comes from fear of the unknown – you hate what you don't understand.
"These days, racism still exists, but it's something that is less outspoken – people are embarrassed by their racism because they know it's something shameful. People like to pretend that it doesn't exist. Look at the Cronulla riots, for instance. John Howard tried to tell us that it wasn't racially motivated. Well, what was it motivated by?"
Unfortunately for the rest of the country, there are no plans to tour Capricornia at this stage. But Ursula is certainly not resting on her laurels. This month sees the release of the much anticipated Ray Lawrence film Jindabyne, set in the NSW Blue Mountains, which Ursula appears in.
"I'm pretty excited about it," she says. "They screened it at Cannes last month. I didn't get to go, but Leah (Purcell, who stars in the film) was there.
As Indigenous actors continue to make an ever greater mark on the Australian film, television and theatre scene, Ursula is sure to be appearing in many more important productions. As for Indigenous theatre, and productions such as Capricornia, it's something that is slowly but surely getting the recognition and acclaim it deserves.
"You can see that people believe in what we're doing," Ursula says. "We're discovering so much more every day – we're still evolving."
(Story 1/7/2006 end)
Other Voices
Her voice has charmed us, but who sings to this sweet soul sista?
If there's one thing you can say about Ursula Yovich, it's that she can sing. The ability to belt out a high-energy blues number in one breath, then turn around and bring tears to listeners' eyes with a heart-rending ballad the next is what makes this young woman special – something that she proved in the recent season of The Sapphires, which also featured Deb Mailman, Rachael Maza and Lisa Flanagan.
Ursula has also branched out into film. She recently filmed a small role for a much-anticipated new Australian film called Jindabyne, which is directed by the award-winning maker of Lantana, Ray Lawrence, and also stars established Australian actors Bud Tingwell, John Howard and Leah Purcell.
"It's a small role, but it's a big thing for me," Ursula says. "I was actually quite frightened on the first day of filming, because I'd never been involved in something so big before. But everyone was so nice, it made it easy to relax and get into it."
Ursula names Archie Roach and American singer Tracey Chapman as particular role models of hers.
"The messages they get across are so important," she says. "I just love listening to them. And Archie in particular seems to have this certain warmth and spirituality about him – that's something I aspire to."
Ursula is currently working on a repertoire of songs that she hopes will contain that essence, and is also returning to voice training to fine-tune that powerhouse of a voice box. Later in the year she will be appearing in a play entitled Nailed, in which she plays a young pregnant girl who runs away from the mission with her white boyfriend, unaware that he has already made plans to sell the baby.
Although she doesn't see herself as a role model, Ursula says that she finds something to admire in almost everyone she meets.
"If I meet someone who has a certain good quality or strength about them that I admire, I will take note of it, and try to incorporate that quality into myself," she says.
But the most important influence on this young song bird has been her father.
"My dad was the most consistent positive force in my life when I was growing up," she says. "He always gave me the freedom to have my own opinion, which I think is very important. He encouraged me to learn from his mistakes, and my own – and to not be afraid of making mistakes."
"He was a single father who raised four children. It was very hard for him, but he never gave up. That is the most important thing he could have taught me – to never give up."
(story 1/5/2005 end)
Deadly Vibe Issue 73 March 2003
Having well and truly recovered from the festive season it seems a bit early to be asking, "How many shopping days 'til Christmas?" But for Ursula Yovich, apparently it's the perfect time of year to be singing Christmas carols.
Ursula recently recorded a carol on a new Australian Christmas album alongside veteran artists Angry Anderson, Rolf Harris, Katie Noonan (of George) and the Sydney Symphony Orchestra. The album, which features a previously unreleased Australian Christmas carol written by the late John Denver, will be released in Australia, the United Kingdom and the United States in time for Christmas 2003.
The timing of the album, while it does appear a bit out of season, will be perfect for Ursula, who plans to release a complete album of her work later this year.
"At the moment I've got what you call an EP, which is mainly for the publishing side of things because we've had some interest from some major labels who want to hear some more songs," says Ursula. "The Pigram Brothers have just started their own publishing company so I'm signed with Pigram Publishing. Having a publishing deal is great because there's some songs I've written that I won't do because it's not my style, but I write that style so I wouldn't mind other people performing it," says Ursula.
Pigram Publishing was established in July last year and while it was initially based on the music of the Pigram Brothers, it is now broadening its base with a view to supporting other talented Indigenous artists. With a stunning voice and a natural talent for songwriting, Ursula seemed the obvious choice for their first signing.
And the Pigram Brothers aren't the only ones sitting up and taking notice of this talented diva. Message Stick has already filmed four of Ursula's songs and will be airing the first of the performances on ABC TV this month. Her song A Spell On You, co-written with ex-BMG manager James Shipstone and J. Roy, features on the new Message Stick album – Sending A Message. While it has the same name as an old jazz standard, it is an original song, sung soulfully by Ursula. It is one of a number of her songs to make it onto various compilation albums, including the Bloomers and Songlines albums.
"It's been a great experience but I kind of don't want to keep doing compilations," says Ursula. "I really want to do my own music. I really love singing and the more I do it, the more I love it," she says.
A talented actor and singer, Ursula can still recall the first time she took to the stage, at only 13, to belt out a tune.
"My first gig was the school talent quest and I was known as the school's quiet girl who kind of sat with her friends and never said a word to anybody until I got up and sang in the talent quest," says Ursula.
Her friends soon realised that their quiet friend had a huge voice. From that first performance the powerful singer got the nickname Whitney – a tag that still haunts her to this day.
"The last time I went to Darwin I went out one night and I saw this guy who used to play the trombone in the school band when I was going to high school. I said, 'Hi Matthew, how are you going?' and he was like, 'Hi, um, I don't know your name – we all just called you Whitney'. I was in his class and he couldn't even remember my name, but everyone called me Whitney after that performance," says Ursula.
Ursula has had a broad range of musical influences throughout her life. Most recently, she has been influenced by everyone from Jill Scott to India.Arie and Pink. But regardless of whom people try to compare her with, Ursula is her own woman and determined to keep developing her own unique style.
"I'm still kind of up in the air about my style. I like a bit of everything. What I want to do is get a bit of a mixture of all those styles. On my album I'd like a mixture of pop and R&B on one song and then the next one to be R&B and rock. I mean, an album needs something that links the songs, but they don't have to be all the same," says Ursula.
Ursula is also an accomplished actress. She is one of that rare breed of "in-work" actors. The irony is that all that acting work is getting in the way of her first love – singing.
"Singing is my first love," says Ursula. "When I left Darwin that was what I wanted to do but I got sucked into the acting. I liked acting and I had been in a few plays in Darwin but singing was always my goal. I studied in Perth, where I met Neil Armfield, who ended up getting me my first job at the Belvoir in Sydney. Since then it's been one play after the other and I kind of put singing on the back burner. But I try and keep whatever money I've saved in my last job for the music. So whenever I finish a show now, I go up to a studio on the Central Coast and record songs," says Ursula.
This year, Ursula is determined to spend more time singing and she made a New Year's resolution to finish that long-awaited first album.
"I don't want to completely stop my acting but I have to be picky with what I say yes to. At the moment there's Threepenny Opera in September this year with Belvoir. It's going to be very challenging because it's very difficult music. The song Mack the Knife comes from that musical. It's such a classic play I thought I wouldn't mind doing that because I've always done modern work. I just wanted something different and it's not an Aboriginal role. I do a lot of different plays where the role is not necessarily Aboriginal. But I like the fact that I can do both Aboriginal and non-Aboriginal roles because it's important that those stories – our stories – are told," says Ursula.
But despite her successful acting career and years of experience, the once-shy Ursula still finds the stage a daunting place to be when it comes to her singing.
"I don't think I've been able to entwine the two – acting and singing. Acting doesn't bother me, I love it and I can do it easily. First nights are a bit nerve-racking but not the way music is. But sometimes when I'm singing I get terrified. I feel vulnerable and very naked when I'm singing on stage. I have to tell myself every time I get on stage to perform, 'Don't be scared, you're a good singer, a lot of people are out there and they're enjoying it'," confesses Ursula.
People are not only enjoying it, they are starting to beg her for her new album. In fact, it is Ursula's ability to allow herself to feel vulnerable and honest on stage which is making the record industry big-wigs sit up and take notice. In the meantime, it's beginning to look a lot like all of Ursula's Christmases will come at once this year – and we look forward to adding her album to the shopping list.