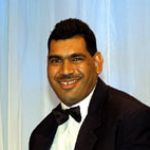 >Deadly Vibe Issue 83 January 2004
When Troy Murphy was born, his parents Kevin and Dorothy never dreamed they'd be accompanying him to a national awards ceremony so that he could receive an award for excellence in sport.
"We are so very proud of him," says Troy's father, Kevin Murphy. "To think that when Troy was first born, they told us he'd never walk – look at him today!"
The talented sportsman from Kirwan in Queensland is living proof that nothing can stop you from following your dreams. Troy, who was born with cerebral palsy and epilepsy, picked up the award for National Disabled Sportsman, yet most of his competition success has been against able-bodied athletes.
"He doesn't bowl in a disabled league here, he bowls in the regular competition," says Kevin. "He doesn't see that anybody can beat him, whether they've got two legs, four legs or whatever. They're out there and they've got to prove that they can beat him – but he doesn't think they can."
So far it seems that Troy is right. The 26-year-old, who first started tenpin bowling 13 years ago, continues to add more and more trophies to his amazing tally.
At this year's Victorian State Disabled Championships, Troy won four gold, two silver and three bronze medals. He repeated his success at the national championships in Canberra, where he set a new national record and took home another gold medal and two silver medals for his collection. Then at the Queensland championships, Troy smashed all the records, with a medal haul of six gold medals and one bronze. Troy was awarded the Australian Sports Medal for his outstanding sporting achievements. He hopes that his achievements and will to succeed will show there are no limits imposed by physical disability.
"His ultimate dream is to play for Australia," says Kevin. "He's already played in one international tournament at the Southern Cross Multi-Disabilities Championship in Sydney 2000, and he won four gold medals at that. There were 42 countries competing at that meet. Considering we don't have any coaches up here and it's something he's pretty well picked up himself, it's a fantastic achievement."