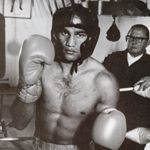 Deadly Vibe Issue 93 November 2004
The Quiet Achiever
When the names of the nominees for the inaugural Ella Award for Outstanding Achievement in Aboriginal and Torres Straight Islander Sport were announced to the audience at this year Deadlys, each one received a huge cheer from the crowd. And that was hardly surprising, considering that the category included names like Steve Tutton, Arthur Beatson, Evonne Goolagong-Cawley and Tony Mundine.
Fittingly, on a night that was driven by a theme of past legends and future stars, it was one of our most loved and successful boxers of yesteryear who was voted as the inaugural winner of the Ella Award.
Tony Mundine has always been a man of few words, preferring to let his actions do the talking. Because of this, Tony is one of the most respected Indigenous icons around. When it comes to sport or life in general, few Indigenous people could find a better example or role model than Tony Mundine.
Surprised by his win, Tony typically didn't have too much to say in his acceptance speech, but it was clear to see that he was blown away by the honour.
"I think sometimes it goes a little unrecognised, all the work that he puts in and the thought process with myself and my success," said Tony's son, Anthony.
"So I think this was a good time to recognise my dad as a past champion.
"He's a cool customer and I'm sure that deep down, winning the award would have hit his heart and he would have got great satisfaction out of it."
(story 1/11/2004 end)