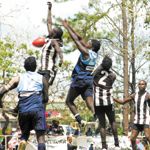 Deadly Vibe Issue 98 April 2005
For the love of footy

Nothing stops the Tiwi Islands from enjoying their footy " not even a cyclone.
There's no doubt that Tiwi Islanders love their football. Over 30 per cent of the population in this small community, which is made up of Bathurst and Melville Islands, play in regular Australian Rules competitions " the highest participation rate of any Australian community. The Islands have produced AFL legends such as Essendon's Michael Long and Geelong's Ronnie Burns. So it's no surprise that Grand Final day is the biggest event on the Tiwi calendar.
On Sunday, March 20 this year, a huge crowd of people from the Tiwi community, Darwin and beyond descended upon the football field in Nguiu on Bathurst Island (the Grand Final is the only time that outsiders can visit the Islands without a permit). But it wasn't the huge crowd, nor the talent of the players that was the most impressive element of this event.
Only a week previously, Cyclone Ingrid had ripped through the region, causing wide-spread damage and the postponement of the preliminary final against Muluwurri and Puumarali. However, there was never any thought of postponing the Grand Final, with the Tiwi Island Football League even considering the possibility of deciding reigning premier Tuyu's opponent on the flip of a coin. However, it was eventually decided to play the preliminary on the Thursday before the big day, with Muluwurri making it through to the big game.
Excitement was high on Grand Final day, as was the temperature, with the heat reaching the high 30s. This did nothing to quell the enthusiasm of the crowd, who were vocal in their appreciation throughout, but it certainly made it tough-going for the two teams.
Players on both sides showed that their skills were enough to rival those of champion AFL players, but in the end it was the Tuyu Buffalos who were once again victorious, with this being their third premiership win. The Buffalos had enjoyed a brilliant season, being undefeated throughout, and so this was the icing on a very impressive cake.
Another plus for the team was the presentation of the Jabiru region ATSIC Coach of the Year award to Tuyu coach Keith Woody. The Ted Whitten medal for Best and Fairest was awarded to Tuyu captain Rupert Pupangmirri and his team mate Romeo Ullungura won the Brother John Pye medal for best on field.
It was also a special day for the umpire. Clancy Puruntatameri made history by being the first Tiwi Islander to officiate at the Grand Final.
(story 1/4/2005 end)