Christine Anu (Outlands)
Christine Anu is one of Australia's most loved Indigenous performers. As well as being a popular recording artist she is also a talented actor and has also been involved in theatre, dance, film, television and children's entertainment. In the ABC production of Outlands, Christine displayed her versatility by playing an Indigenous, paraplegic, sci-fi geek. The six-part comedy series was based on the 2006 short film of the same name. In the series, Christine plays Rae, the wheelchair bound matriarch. The series has established a cult following.
Deborah Mailman (Mabo)
Deborah Mailman is one of Australia's most popular and successful actors. Earlier this year she was called upon to play the historic role of Bonita Mabo in the movie Mabo. The story about one of Australia's national heroes – Eddie 'Koiki' Mabo – and the strong woman behind him, Deborah's was a remarkable performance. The new movie was also an epic love story spanning three decades. It screened on ABC1 in June this year.
Ursula Yovich (Bloodland)
Well known Aboriginal singer, songwriter and actor Ursula Yovich is a member of the Black Arm Band and has performed in musicals including The Sapphires and Magpie Blues, as well as the films Jindabyne and Australia. She has performed as a singer across Australia and internationally, and has recently appeared in The Sydney Theatre company's production of Bloodland (in association with Bangarra Dance Theatre). Bloodland is a journey into a new kind of Australian theatre work by Indigenous artists, Stephen Page, Kathy Balngayngu Marika and Wayne Blair. It's an uneasy combination of hip urban Indigenous, traditional Arnhem Land and the long-developed Bangarra style of ancient-modern dance-performance.
Rarriwuy Hick (Bloodland)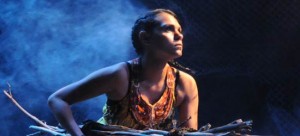 Rarriwuy Hick is a professional dancer and actor who combines traditional Indigenous dance with contemporary styles. Rarriwuy, from North East Arnhem land, has performed traditional dance all her life. This year she has appeared in the Sydney Theatre Company's production (in association with Bangarra Dance Theatre) of Bloodland, a production which seeks to evoke the unenviable no-man's-land that so many Aboriginal and Torres Strait Islander people find themselves trapped in.This year, Rarriwuy also appeared on Move It Mob Style, a health and fitness series that appeared on ABC3.
Sandy Greenwood (Killer Elite)
Sandy Greenwood has worked extensively in film, television and theatre. She is a proud Aboriginal woman hailing from the Dunghutti and Gumbayngrrii clans of NSW and has worked alongside Robert DeNiro and Jason Statham in the 2011 US film The Killer Elite. From an early age, Sandy had an innate love for dance and performance training in both traditional dance, classical ballet and making her acting debut in a professional Indigenous theatre company at the age of eight. A strong and versatile stage actor, Sandy has worked for The Sydney Theatre Company, The Seattle Children's Theatre in Washington, USA and Australia's Leading Indigenous Theatre Companies. Sandy has recently set up her own Production Company, Jinda Productions with a number of Indigenous projects in pre-production