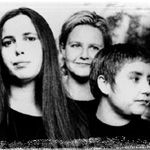 Deadly Vibe Issue 97 March 2005
Solo Sisters
As the three sweet singing sisters of Tiddas, they captivated us with their powerful music and spirited lyrics. So what are these tiddas up to now?
For 10 years, Tiddas were Australia's premier all-female vocal group. After a successful run which included four albums, international tours, several Deadly awards and an ARIA, the three girls of Tiddas went their own separate ways.
Today two of the Tiddas, Sally Dastey and Lou Bennett, continue to do what they do best – make beautiful music.
Sparky Irishwoman Sally is currently enjoying a flourishing solo career, recently releasing her second studio album, Half a Wish, Half a Moon, with her band the Sweet Sceptics. Both this and her previous album, Secrets to Keep, have received rave reviews from across the board. She manages to cross several genres – from folk to rock to country – all of which showcase her amazing voice and impressive song writing abilities.
After Tiddas, Lou went on to release a solo album before reuniting with Amy and joining Scottish bass player and vocalist Alics Gate-Eastley to form the Bloody Marys. Their first major gig was at the eight annual Deadlys.
"I found working solo to be both exciting and scary," Lou admits. "It was a bit overwhelming to make decisions all on my own without my tiddas there, but to have the freedom to do what I wanted musically was exhilarating.
"The Bloody Marys got to tour to New Zealand and we played together for a while before Amy left the group to move to Portland (Victoria)."
Following the Bloody Marys, Lou formed a new collaboration, The Sweet Cheeks, in 2003.
"Basically it's me and Alics, and we bring in other artists as guest performers," Lou explains.
Lou is also passionate about teaching others, both black and white, about Aboriginal culture. A proud Yorta Yorta woman, Lou takes groups of Melbourne University students to her country and teaches them about Aboriginal culture and its history.
She also runs an educational show which travels around to primary schools called Gowa Gowa.
"The name means 'north south' in my language," Lou explains. "The show is all about reviving the Yorta Yorta language through song. It's something very important that I feel I need to do.
"I feel that it's my role to be the one who steps outside their community to travel and teach others about our culture. I'm a sort of messenger, I guess."
Lou has also branched out into theatre, appearing in several stage productions, including Conversations with the Dead and Yanagai Yanagai.
"My cousin is the artistic director of the Melbourne Worker's Theatre," says Lou. "Basically she told me to get off my little black moom and try to get into other artistic circles."
Lou has a few new theatre projects on the burner, including a stand-up show at the upcoming Melbourne Comedy Festival and a reprisal of YanagaiYanagai, which will be touring England, Scotland and Wales later this year.
Lou is still in contact with Amy and Sally, and admits that sometimes she still misses those days with her tiddas.
"But we really needed a few years of space from each other," she admits. "Now that we've had some time apart we can sort of come back to the table again.
"I learnt so much from my time with Tiddas, which is especially clear in hindsight."
And what has Amy been up to?
"Amy is living just outside of Portland (Victoria)," says Lou. "She is living in a beautiful house by the ocean, catching fish, feeding her chooks and looking after her six dogs.
"She is so happy living on her land with her family. Last time I saw her she was smiling."
(story 1/3/2005 end)
Tiddas have been described as "three women, two guitars and one spirit" and that's a pretty hard description to beat.
Who are the Tiddas? Well, they consist of Sally Dastey, Lou Bennett and Amy Saunders, "˜sisters' who have distinguished themselves as a musical trio of rare power and honesty.
In 1992 their debut EP Inside My Kitchen was nominated for two ARIAs for Best New Talent and Best Indigenous Record.
1994 was the year they released their first album, Sing About Life, which has subsequently gone Gold. The following year the album was released in North America, where it received much public and critical acclaim.
Their second album, the self-titled Tiddas, was released in 1996 and Lethal By The Kilo in 1998. All three albums have been hugely successful, garnering three Deadlys, an ARIA and a legion of devoted fans.
In amongst all this fantastic recorded material, Tiddas found time to hit the road big time, both in Australia and overseas. They toured extensively throughout Europe and North America and performed at two Womad concerts in Britain. At a third Womad concert in Granada, Spain, they shared the stage with the likes of Suzanne Vega and Van Morrison.
In 2000 they released their fourth and final album, Show Us Your Tiddas. A live recording made at Melbourne's Continental Café, the album is a celebration of a decade of making music, defying trends and forging friendships all around the world.
The album features 11 new tracks filled with classic Tiddas passions: peace, families, politics, women's issues and most important of all, love. It also includes two covers: "Wild Mountain Thyme", a traditional Scottish folk song, and "Makin' Believe" by Jimmy Work.
We are sad that this, their best work yet, is also their last for now. We wish Lou, Amy and Sally luck in their respective future plans. Thank you for the music, Tiddas!