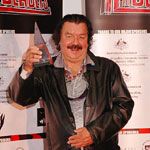 In Good Company
Deadly Vibe Issue 116 October 2006
A lifetime of work is recognised for one proud Wakka Wakka man.
Each year, the Ella Award pays tribute to a legend of Indigenous sport, an d t his year the honour was bestowed upon a man whose principals and pride as both a sportsperson and proud Aboriginal man have inspire d t he nation.
Flanked by his long-time friends Gary, Glen and Marcia Ella Duncan, Lloyd brimmed with pride as he accepted his Ella Lifetime Achievement Award for Contribution to Aboriginal and Torres Strait Islander Sport.
Lloyd follows in the footsteps of other legends of Indigenous sport to accept the award, joining iconic sportsmen Lionel Rose and Tony Mundine.
The acknowledgment is a fitting one for Lloyd, who has indeed dedicated a great deal of his life to furthering opportunities for Aboriginal and Torres Strait Islander people in sport.
Not only was Lloy d t he first Aboriginal person to represent his country in Rugby Union, playing for the Wallabies in 1962, he also made a poignant statement by opting to withdraw from the squad rather then play as an honorary white on the South African tour.
In 1991, Lloyd establishe d t he Lloyd McDermott Rugby Development Team, to introduce rugby union to young Indigenous men and women across Australia, and ultimately to increase the number of young Aboriginal players representing at the national level.
"What can I say? I speak for a living, that's my job, but I'm almost lost for words tonight," Lloyd said as he accepted his award.
"One of the things we've been able to do is get rugby to the Aboriginal youth through the help of Australian Rugby, ATSIC and other organisations. But one of the leading names who were able to project rugby to the Aboriginal people were the Ellas, so I'm particularly indebte d t o them.
"Last but not least I want to thank all of you who have come here tonight to share in this very special occasion. I've been to a lot of these awards and it's a wonderful atmosphere, but to be nominated an d t o succeed is extra special."