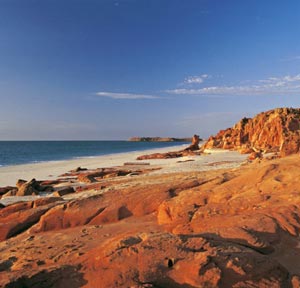 Mitch Torres is no stranger to the media. She's an actor, writer and filmmaker, and many would know her from her role in the satirical Australian film BabaKiueria. Mitch's latest role is shaping up as her toughest yet, as she and other concerned Kimberley residents fight to stop the construction of Woodside Petroleum's proposed $35 billion gas hub near the pristine James Price Point.
The potential threat posed by the proposed $35 million gas hub is no small matter, Mitch says. That's no surprise, given that the area in question – the Kimberley – is larger than the entire state of Victoria and contains some of the most beautiful, rugged country in Australia.
"It's the last frontier in Australia. It's probably one of the last frontiers on this planet, and that's what attracts people," said Mitch, talking to Nancia Guivarra on Deadly Sounds.
"They come here for the beautiful landscape, the cultural heritage of the Indigenous people and this wonderful melting pot that we have here – and it's a working melting pot. We've been doing it a long way before that word 'multiculturalism' was fancy."
Despite claims of progress, jobs and increased cashflow in the region from the development, Mitch remains sceptical. As a prominent community member, she has become an unofficial voice for the region, keeping people active and informed on an issue that she believes important stakeholders have been largely excluded from.
"The biggest key stakeholder was the town of Broome and many people were left out of the debate, the talks and the information sessions," she says.
"It was a very, very close vote: 108 voted 'no'; 168 voted 'yes'. Now that's not a clear mandate.
"After the vote happened, people were saying, 'What about us? We haven't been consulted, and this is the town that this proposed gas plant is going to heavily affect – what does that mean for us?'
"So there was a gathering of people, who were predominantly people concerned about the impacts on environment and the quality of our air and the water, the waterways and the flora and fauna. We've all come together in a really strange sort of process, but it was a natural process."
"People were saying, 'Well, who is thinking like me?' and, suddenly, there's this group of people – there's six, and then there's 30, and then there's 50, and then there's 600… and low and behold we get 7000 people on Cable Beach."
Among the 700 people was a variety of Australian celebrities and performers who jumped onboard to raise awareness about the protests. Organised by Alan Pigram, celebrities including Jimmy Barnes and members of Aboriginal band No Fixed Address went "rebel busking" around the nation to spread the message.
"Basically, what it was about was us saying that we've got something really special, really unique here in our part of the world. It is what attracts people to come here and visit," says Mitch.
For more up-to-date information on the proposed gas hub go to the Environs Kimberley site at www.enrivonskimberley.com.au