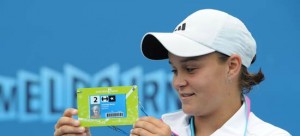 What an amazing 12 months it's been for teenage tennis sensation Ashleigh Barty.
After winning the junior Wimbledon title in early 2011, last month the 15 year old from Brisbane stunned the tennis world by first defeating the top seed for the Australian Open, Casey Dellacqua, in her opening match, and then Olivia Rogowska 7-6 (8-6) 6-2 in the playoff final at Melbourne Park to book a place at the Australian Open this month.
Ashleigh didn't drop a set in five matches against her vastly more experienced opponents to earn her place in the women's singles' draw.
"I can't describe how I'm feeling. I was just hoping to win a set (during the week), so I'm pleased with what I've done," said Ashleigh.
The achievement bolsters Ashleigh's stocks as arguably Australia's most exciting tennis talent.
"One of my goals was to play in a Grand Slam, so I achieved that now and hopefully I'm fit and healthy to play in the Aussie Open," she said.