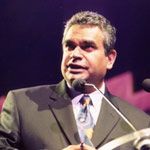 Deadly Vibe Issue 104, October 2005
Winning Words
A powerful book with an important message takes out the Deadly.
Stephen Hagan, winner of the 2005 Deadly award for Outstanding Achievement in Literature, was looking forward to the Deadlys even before he knew he was a nominee.
"My wife and I have always wanted to come to the Deadlys," Stephen said after the awards. "This year we decided we would definitely go.
"When I found out I was nominated for an award, it just made the trip to Sydney all the sweeter. And now to have won " it's just amazing."
Stephen won the award for his autobiographical book The N Word " One Man's Stand, which tells the story of his relentless legal battle to remove the word "nigger" from a sign at a sports ground in the Queensland town of Toowoomba.
Stephen was presented the award by composer, actor and Deadly nominee David Page and musician Kerrianne Cox.
In his speech, Stephen told the audience how important it was to rid the world of racism; a sentiment which brought applause and cheers from the crowd.
Stephen is currently a lecturer at the University of Southern Queensland, where he is also studying for his PhD. He is married with two children.
(story date October 1, 2005 end)