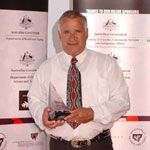 For the Love of Language
Deadly Vibe Issue 116 October 2006
One of our greatest educators wins a Deadly for his crucial work with the Wiradjuri language.
This isn't the first time that Stan Grant Senior has been nominated for a Deadly award. Stan was a nominee for the Outstanding Achievement in Aboriginal and Torres Strait Islander Education award in 2005, but that was not to be his year.
This year " 2006 " was Stan Grant Senior's year.
Stan , a highly respected elder of the Wiradjuri tribe of the south-west inland region of NSW, has been crucial to the preservation and resurrection of the Wiradjuri language.
He is one of the few people to have heard native speakers of his tribe's language, having been brought up as a child around native speakers of his grandfather's generation. This fuelled Stan's heart's desire to see the Wiradjuri language learned and spoken again.
Stan has spent many years travelling around NSW teaching the Wiradjuri language. In 1992 Stan initiated the Wiradjuri Language Reclamation Project. He has been working since 1997 preparing language learning materials and running classes and, in 2005, he co-developed the Wiradjuri Dictionary.
An added touch to Stan's heartfelt speech of thanks was the presence of his grand-daughter on the stage. Lowana Grant was one of the trophy assistants on the night, and she gave her grandad a hug, showing the world how proud she was.
Stan truly deserves all the accolades he receives for his work. Restoring and maintaining Aboriginal language is essential " if it isn't done now, many more languages may be lost forever.