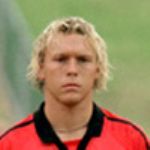 >DEADLY VIBE ISSUE 74
Soccer player Shane Lyons is the son of Cliff and Debbie. Yes, Cliff Lyons, the former Manly Warringah rugby league legend, State of Origin performer and Australian Kangaroo who was one of league's greatest players.
Does he feel under any pressure to perform, being the son of a famous dad? "No, not at all," Shane says. "The only time I felt really nervous and a little bit under pressure was when I got the chance to play for the Wollongong Wolves this year at Brookvale Oval where Dad played all those games and weaved his magic.
"It's been more fun and excitement, if anything, and it actually inspires me to know what he's achieved. I don't feel that I have to live up to any expectations."
In 1979, Shane was born in the southern Sydney suburb of Sutherland, where he played junior soccer. He spent his first eight years there and moved to Merriwa, a small town near Scone, for a year before moving to Canberra.
Shane attended Trinity Christian School in Canberra from primary through to Year 10, then transferred to Tuggeranong College for Years 11 and 12. He was an all-rounder at school, playing cricket, basketball and league in addition to soccer.
In 1997 he represented the ACT in soccer at the nationals in Adelaide and was selected in the Australian Schoolboys' soccer team to tour South America.
" We went on a five-nation tour via New Zealand, which included Argentina, Chile, Brazil and Uruguay. To play against world-famous soccer nations was something special. It was a great experience and one that I'll never forget," he says.
With that tour behind him, he travelled to Portugal in 1998 to try out for a spot in the famous Benfica soccer team, and was picked up at the airport by none other than coach and soccer legend Graeme Souness, the former Liverpool and England star.
"I was there for a month," Shane says. "The trial went okay but I got a bit homesick and the language barrier was really hard. Unless you experience it yourself, it's hard to comprehend."
Shane was in demand, so wasting no time at all, he travelled to England and trialled with then Premier League team Coventry City for six weeks. "That was really exciting and I did really well there," he says. "They really liked what they saw in me, but because I didn't have an English passport, my application for a visa was rejected and, after appealing unsuccessfully, I returned to Australia nine months later."
It was a pity really, as Australia would have had another soccer star playing in England – and an Aborigine to boot. Shane would have been, and hopefully still might be, the first blackfulla to play in the Premier League, one of the strongest soccer leagues in the world.
Returning home for the 1999/2000 season, he signed a one-year contract to play with the Northern Spirit in the National Soccer League (NSL). "It was my first year in the NSL and as a young player I had to work my way into the starting team," Shane says. "It was really nerve-racking when I played my first game, but coach Graham Arnold showed a lot of confidence in me and I ended up in the starting line-up for 12 of the 15 games."
With increasing financial problems, the Northern Spirit decided to cut their playing roster. So Shane found himself suiting up with the Canberra Cosmos the following season.
"I played almost every game there and played really well," he says. "But two weeks before the 2001/2002 season, the club folded because of limited finances and I found myself in limbo with no team, so I played out the remainder of the season with State League team the Belconnen Blue Devils."
Shane returned to the NSL for the 2002/2003 season after signing a one-year contract with former two-time champions, the Wollongong Wolves. "They normally sign players for one year but I've been told I've been signed again for next season. I played every game bar one through injury this season and thought I had a very consistent, strong year. I'm looking forward to going back."
"Cliffy", as he is known for obvious reasons, plays on the left wing and describes himself as a player who has good dribbling skills and speed, and is willing to take players on.
His role models have always been both his mum Debbie and his dad Cliff.
But why did Shane choose soccer over rugby league? "I played soccer as a first sport and just made rep teams and from then I never really got the chance to pick a sport because I was already in the rep teams for soccer. Dad was happy with whatever I was happy with, and he supported whatever sport I chose," he says.
Asked what he would like to achieve in the coming years, he says: "In the next couple of years I'd like to see myself based in Europe, possibly in Belgium or Sweden. Obviously I'd like to play for the Socceroos … and it's every player's dream to play in a World Cup."