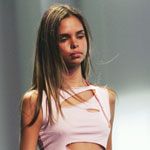 Deadly Vibe Issue 106, December 2005
She's got the Look
An Aboriginal beauty is lighting up the international catwalk.
In our July 2004 issue, we featured the fresh face of 13-year-old Samantha Harris, a finalist in the Girlfriend Covergirl Model Search competition who obviously had a big future ahead of her as a professional model.
A mere year and a half later and Samantha, now 15, has been inundated with work both here and overseas. She has walked the runway at several high-profile events, including at Mercedes Fashion Week in Sydney, the David Jones Spring Collection in both Sydney and Melbourne, and the Lancôme Awards in Sydney.
She was also chosen by world famous photographer Patrick Demarchelier to take part in a photo shoot for Glamour magazine in New York, and recently returned from a trip to Bora Bora in Tahiti where she modelled for a Marie Claire shoot – the third time she has appeared in this leading national fashion magazine.
"It's like a dream," says Samantha's mother Myrna. "She's getting to travel to all of these places that most of us could only imagine."
Somehow Samantha has managed to keep her head amidst all of this glamour and excitement, recently completing Year 10.
"She's done a great job, juggling her schoolwork with modelling," Myrna says. "Her family keep her grounded. When she's at home she's just one of the kids."
At a Brisbane casting for the David Jones seasonal fashion, the national stylist for David Jones, Kelvin Harries, claimed that Samantha has "The Look", predicting huge things for this stunning teenager.
It's not hard to see what he means. With her bee-stung lips, big eyes and soft features, Samantha has the right blend of classic beauty and originality that will undoubtedly have international designers beating down her door in the years to come.
(story date December 1, 2005 end)
[ photograph courtesy of Getty Images.]
Deadly Vibe Issue 89 July, 2004
Her face is her fortune
At just 13 years of age, Samantha Harris already looks set for stardom. This striking young girl from Banora Point, near Tweed Heads in northern NSW, was selected from more than 5500 entries as one of six finalists in the Girlfriend magazine Covergirl 2004 Model Search competition.
Samantha had read about the competition and travelled to Brisbane to take part in the magazine's nationwide talent-spotting roadshow. She is the first Aboriginal person to be a finalist in the annual competition.
"She was there really early with her mum – you could tell she was on a mission," says Girlfriend's acting editor, Danielle de Gail. "When we got to meet her, it was obvious how stunning she was, and the fact that she was Indigenous made her even more appealing. We don't see enough Indigenous models."
Samantha is no stranger to modelling contests. She entered her first beauty pageant at the tender age of five, and has been a regular finalist in local competitions ever since. At just 11, she was chosen as Model Most Likely to Succeed in Dolly magazine's 2002 Model Workshop.
But Samantha's mum Myrna knows that she doesn't need to worry about her daughter getting carried away with all the attention.
"She's a good kid," says Myrna with pride. "She's very level-headed. I don't feel as if I have to worry – I know she'll keep her feet on the ground."
As part of being a finalist in the Girlfriend competition, Samantha has won a contract with New York-based modelling agency Chic Model Management. She also took part in Sydney's renowned Fashion Week.
"I've wanted to be a model ever since I was a little girl," says Samantha. "And I want to be Australia's first Aboriginal supermodel."
After the finalists were announced, they were all flown to Sydney, where the girls took part in a professional photo shoot.
"The photo shoot was fun, but you'd be surprised what hard work it is," Samantha admits. "And the other girls were really nice – we got along really well."
Samantha has impressed with more than just her looks. Her pleasant personality coupled with her strong determination to succeed have also drawn their fair share of attention.
"She's a really sweet, very genuine girl," says Danielle. "And I believe she has what it takes to make it as an international model."
When were you born?
20 July, 1990
Where were you born?
Tweed Heads, NSW
Do you have any brothers or sisters?
Four brothers: Michael, 26; Andrew, 19; Isaac, 12 and Christopher, 4. One sister: Natalia, 10.
What's your favourite part of Australia?
The Gold Coast
Who is your favourite model?
Naomi Campbell
Favourite beauty product?
Lip gloss
What is your favourite colour?
Pink
Who is your favourite singer?
Delta Goodrem
Favourite TV Show?
Home & Away
Do you have a nickname?
Sam
Who's real deadly in your eyes?
My mum
Where do you see yourself in 10 years' time?
Hopefully travelling the world
[ photograph courtesy of Girlfriend magazine.]
(story July 2004 end)