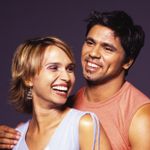 Deadly Vibe Issue 89 July 2004
Head over heels
When AFL footy star Che Cockatoo-Collins finally laid eyes on Delvene Parkin in the flesh, it was love at first sight.
Che had first spotted Delvene's photo in The Koori Mail in 1996, when the gorgeous Queenslander was named Miss Aboriginal Australia. He decided on the spot that Delvene was the woman he would marry.
The only problem was – he lived in Melbourne, and she lived in Queensland. He tried asking her on a date through one of Delvene's work colleagues.
Delvene recalls: "She said to me, 'Che Cockatoo-Collins would like to ask you out on a date'. I said no. He was too far away and it was too unrealistic."
It would take another five years before fate stepped in and the two finally met. Delvene had posed for an all-Indigenous calendar, and its producer, Liza Fraser-Gooda, finally brought the model and the classy AFL forward together.
So was it love at first sight after all of that? "Yes it was," Delvene answers, without a second's hesitation.
Che simply says of his partner of three years: "She's the best thing I've ever seen."
This year, the two became ambassadors in speaking out against family and domestic violence.
Che says: "I think people who do that are weak, are cowards and I wouldn't have any time for them."
He credits his mother with instilling in him a deep respect for women. He says Delvene's mother, too, "has got a bit of an aura about her – she demands a lot of respect without asking for it".
"But I don't think you have to be brought up in any particular way to know the difference between right and wrong," says Che, who is sitting out the 2004 footy season after having shoulder surgery. The down-time is allowing Che to concentrate on his work at HomeStart Finance, and in particular the Nunga Home Loan scheme that helps low-to medium-income earners to buy their own home.
"Once you're old enough, you choose to respect other people's rights."
Delvene says the secret to their strong relationship is to be positive, and to talk through any problems as soon as they arise. "You've got to be open and honest about things," she says.
(Story 1/7/2004 end)