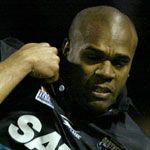 Rhys joined the Penrith Panthers in 1997 following some fine performances for the Queensland Under 17s representative side.
Rhys has performed outstandingly in both first grade and first division for Penrith, and has gained a spot in the NSW first division representative side.
Growing up in Rockhampton, Rhys played for Emmaus College and helped take out the Mal Meninga Under 19s Cup. It wasn't long before the rugby league world came knocking, keen to use someone with Rhys' talent and skill.
One of the most exciting players in the game today, Rhys is certainly one player to keep your eye on in the future.
Name: Rhys Wesser
Date of Birth: 31 March 1979
Height: 174cm
Weight: 84kg
Sport: Rugby League
Club: Penrith Panthers
Position: Fullback
Deadly Vibe Issue 80, 2003
It all began with "˜The Man' back in 1999 when Anthony Mundine accused the NSW and Kangaroos selectors for not picking him in their sides because he was Aboriginal.
At the time, Choc's controversial statements brought him plenty of criticism and ridicule.
Then the League's most prolific try-scorer, Nathan Blacklock, who had led the League in try-scoring for three consecutive seasons, was continually omitted from the NSW Origin teams, to the disbelief of just about everyone in the country.
Suddenly, when Anthony came to the defence of his former teammate, his comments were met with a lot less criticism.
This brings us to State of Origin snub controversy – round three.
Enter Rhys Wesser, the flying Panthers fullback, who electrified crowds with his incredible pace and miraculous try-scoring ability. This season, Rhys has played at the top of his game, helping the Panthers to an incredible turnaround while scoring two of the most scintillating solo tries of the season along the way.
While the Panthers ended up winning the minor premiership for the first time since 1991, Rhys also scored a personal triumph " he now holds the record for the most tries scored by a fullback in the history of the game after bagging 24 regular season tries.
Despite his superlative form, Rhys was not deemed worthy of a Queensland call-up.
This time around, conspiracy theories failed to surface probably because Queensland selectors did have three good excuses for not picking Rhys in the side.
The three excuses were Shannon Hegarty, Matt Sing and Matt Bowen, who, like Rhys, are all backs and have all played exceptionally well this season, similarly deserving a place in the squad. All three also happen to be Indigenous.
OK, Queensland, you're off the hook this time.
>Deadly Vibe Issue 81
Things couldn't get much better for Rhys Wesser at the moment – over the past year the flying fullback has been on an incredible roll from one success to another.
What an absolutely amazing year this Queenslander has had. First of all, he was the NRL's leading try-scorer, helping to push the Panthers to the minor premiership and onto their already legendary against-the-odds grand final win over the Roosters. Now Rhys has capped off a magical season by scooping the Deadly award for Best Achievement in Football.
"It's been my dream ever since I was seven years of age to come down to Sydney and play rugby league," says Rhys.
"I think this year has been awesome for me – winning the grand final, it doesn't get much better. To the kids of Australia, if you have a dream, hold it, treasure it and do everything possible to get it."
In his seven years at Penrith, Rhys has always been known as a dangerous attacking player, but in 2003 it seems all the pieces finally fell into place. He hit the best form of his career and impressed all season. He was on the brink of Australian and Queensland representative honours and undoubtedly deserved a spot in both teams.
Despite his omission from the Kangaroos squad, no one can wipe the smile from Rhys's face. That's because 2003 has seen him achieve the goals he has dreamed of for so many years.