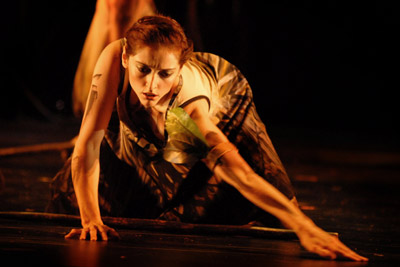 She's performed in some of Bangarra's biggest productions, and even won a Deadly Award for Dancer of the Year. Deadly Vibe sits down to yarn with Yolande Brown.
Statistics
Height 166cm
Age (Cant ask a lady that question!)
Mob Bidjara
Occupation Performing Artist
Nickname Yo, Yollie
Pets Brindabella
Brothers and Sisters
One Brother Julian
How long have you been involved in dance?
A long time. I trained for three years at uni, studying full time, then I joined Bangarra in 1999. I've done a few other projects outside the company, but have been dancing with the company for just over 10 years.
When did you decide to make a career out of it?
Well, I used to love dancing in the aisles of the supermarket when I was little, so my mother put me into dance classes when I was two, but two year-olds aren't very good with discipline. I think I annoyed the dance teacher a lot and I was expelled from my first ballet school. Later when I was about seven, I started learning a little bit of jazz, tap and cabaret, and it wasn't until I was about 15 that I realised that I might want to become a professional dancer. I didn't really knuckle down and get into serious dance stuff like ballet and contemporary, until I joined uni and got my professional training, but I've always danced and loved to move anyway.
What do you love most about being a performer?

You never get bored. Also, being constantly creatively stimulated. I write my own music, lyrics and play piano, so I write all my melodies and that's something I can do on tour as well. It keeps me occupied and inspired and in my spare time while travelling on the road with Bangarra, like right now, we are about to go on a six week regional tour and my laptop has a bunch of programs on it.
If I ever don't have anything to do, I can make use of where I am, record music and get inspired while I'm on the buses travelling through our outback. I think music, acting and dance all complement each other, because if I'm worn out from dancing all day, I can sit down and sing or sit down and play piano and write music.
They feed each other, like my dancing is enhanced by my musicality, because I write music I can also read into the music that we are dancing to and that really inspires me. I think one of the reasons why I dance is because I love music so much. My parents were both musicians, my mum was a singer/guitarist and my father was a singer/pianist, and I didn't want to follow their careers literally, so instead I dance and I guess that dancing is my expression of my love of music.
How do you get yourself ready for a performance? Is there anything special you like to do?
Just to make sure I've done a proper warm-up, make sure my body is stretched and warm. When I put on my makeup, that's my chill-out time, the calm before the storm -where I just centre myself. I usually have a cup of tea while doing that, even though sometimes I get up on stage and wish that I hadn't had that cup of tea (laughs). When I put on my stage makeup, that's when I start to get into the routine and enter a different zone, it's a part of the process or ritual that you have to go through for every show
How did it feel receiving a Deadly for Dancer of the Year?
Well it was really special because it's a fantastic thing being recognised by your own community and knowing that all your hard work is valued. It felt really significant because I've been doing this for a really long time now, and it was really beautiful to feel that the body of work that I have contributed was being valued. It's great to be a role model for other young dancers as well. That's why awards are so significant as well, as it embraces achievement and makes people see the achievements and think that it's something they could achieve as well, as there aren't a lot of things that people recognise as an achievement to strive for. Having an awards' ceremony exposes that to them because, especially with dance, not enough people know that information is there. So yeah, I think it's great to be a role model as well.

You recently went home to your country and got involved with doing workshops with your mob, can you tell us what your Indigenous heritage means to you?
It's my connection to family. It's how I relate to my family and how I relate to my history. I hadn't met a lot of those people I met when I went up to Charleville. My grandmother was born out that way, she was working on a cattle station out there. She left when she was 16 to marry a Welsh Irishman who was travelling through the countryside and relocated back to Melbourne. Her sisters always lived out around that way so, going back out there, I was able to trace my great auntie's heritage and see where I've come from and learn why my mum is the way she is, and why I am the way I am.
What is you favourite method of exercise?
It would have to be a recreational form of exercise like swimming at the beach. Body surfing, that's probably my favourite form of exercise, on a nice sunny day where the water is not too cold. Plus, going to beach is free!

What kind of food do you eat – do you have a specialised diet?
I don't like to eat a lot of meat, my boyfriend is the exact opposite. He is a real carnivore, but I like to eat a lot of fresh food, like lots of fresh veggies and fruit. I also need to make sure I get protein as well. I'm not at all into fast food but rather slow fresh food.
Do you have any hobbies?
All my hobbies tend to be creative ones usually. Apart from writing music and singing which also ties in with my career though, working while on tour doesn't leave a lot of time or resources for a hobby. So, I like to mix it up a little and do multiple things to keep me focused. On the side I like cooking (roasting), speaking French, playing piano and things like photography.
What about drugs and alcohol?
I think that they don't help you reach your potential, in terms of being the best person you can be. They tend to make you impatient, quicker to bite and less inspired to fulfil your dreams. I don't think there are many positives at all that come from drugs and alcohol. It s okay to do things in moderation if you can but, the thing is, that a lot of people can't. You aren't doing yourself any favours by using or abusing drugs or alcohol, and you only live once.
So what are your immediate goals at the moment?
There are always so many goals to achieve, but I would love to write a one-woman cabaret show. I would also love to tell some of my own stories from my Bidjara mob and be able to present them on the world stage, through dance. Also just to continue on learning and being inspired by interesting things around me, basically. If you can stay fresh and inspired, then you will enjoy your time.

Do you have any advice for Deadly Vibe readers?
Well my favourite saying has always been, 'do what you wanna do, be what you wanna be, yeah!' I think it's important to stay true to yourself, know who you would like yourself to be and don't get too cut up when things don't work out perfectly because life is unpredictable.