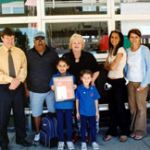 Winner: Chrissy James
School: Guthrie Street Primary School (Shepparton VIC)
Eight-year-old student Chrissie James was recently treated to a school day she won't forget when the Vibe BBQ team paid her and her class a very special visit.
Chrissie is a student at the Guthrie Street Primary School in Shepparton, Victoria and was a deserving winner of Deadly Vibe magazine's My Story competition. To enter the competition, students were asked to write in to the magazine with a story describing their dream job.
In her entry, Chrissie wrote about her love of singing and her desire to one day teach singing to children.
On hand to present Chrissie with her winner's prize, which included a CD Walkman, scooter and certificate, was touch football champion Bo de la Cruz. Chrissie's mother, grandparents and younger sister also came along to cheer her on, while school principal John Howley personally congratulated her for her achievement.
Also present was Aboriginal educator Leonie Drummond, who was extremely helpful throughout Vibe's visit. Following the presentation to Chrissie, everyone in attendance feasted on a delicious barbecue of snags, chicken wings, salad and rolls.