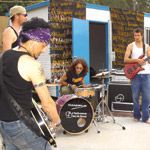 Deadly Vibe Issue 101 July 2005
Rising Up
A little bit roots, a little bit Beastie Boys and distinctly Australian " Propaganda Klann have plenty to say and certainly aren't shy about saying it.
Based in Melbourne, St Kilda-based Propaganda Klann is an exciting cooperative of highly-talented musicians who share a love of creating tunes and banging beats. The band draw their inspiration from world current affairs and Australian political issues.
Self-confessed "programmer geek and sound twister", Wiradjuri/ Ngunawal/Worimi man Cam Goold (aka Arnold Slamm or Cam Slamm) is the founder of the band.
Over the years, Cam has hung out with international acts such as Ice-T, Public Enemy and De La Soul. He describes the collective's sound as a loop-based hybrid " hip hop meets jungle meets pop.
From workshops in 35 remote communities including Papunya, to working with Christine Anu and collaborating with other musicians such as Nokturnl, Shane Howard, King Kadu, Puretone and Penny Ikinger, Propaganda Klann have performed live at such events as Corrboree 2000, Livid, the St Kilda Festival in Melbourne, Live at the Wireless on Triple J and last month's Dreaming Festival.
This outspoken band always delivers plenty of discussions and entertainment when they perform. Their album Uprising Non-Referable, will be released shortly.
To find out more about Propaganda Klann, check out their website at indiginet.com.au/pklann
(Story 1/7/2005 end)