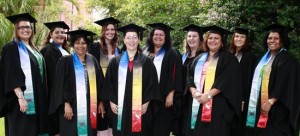 Ben Ghee is one of 12 Indigenous graduates to recently receive a diploma from the Wal-Meta Leadership program in Brisbane. Ben, a paramedic, relocated from his home in Gladstone to Weipa in Far North Queensland in order to gain work experience closer to his father's country in the Torres Strait.
"I chose to move to Weipa because working in remote Indigenous communities there is a lot more diversity of experience you can gain on the job when there are only one or two paramedics working together," says Ben, who took part in the 18- month course that builds managerial skills for future Indigenous leaders.
"The reason I wanted the Diploma of Government qualification was to have the managerial skills and knowledge to be able to work as an Officer-in-Charge in a remote ambulance station, where there may only be one person based in a region.
"The training in the course opened me up to what's involved in the job of management, so now I'd feel more confident to be able to act in the manager's role when they are on leave and I hope to take on an Officer-in-Charge role in the future," said Ben.
2011 Graduates from the Leadership Program came from towns and communities from all over Queensland, including Brisbane, Cairns, Townsville, Palm Island, Mount Isa, Weipa and Chinchilla.
The Wal-Meta Leadership program began in 1993 and has now seen more than 200 students graduate. For more info, visit www.employment.qld.gov.au or call 1300 369 925.