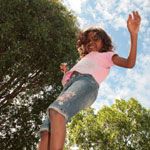 Students of the Indigenous communities of Pormpuraaw and Kowanyama in Cape York Peninsula are currently enjoying being creative with artists from Queensland Arts Council, who have toured to the communities to deliver multimedia arts workshops and live performances for the students.
The tour, which takes place over two weeks, delivers high quality arts education, as well as building communication and self-confidence skills through creative and cultural expression. Funding for these tours has been increasingly more difficult to secure in recent years, after an all time low in 2003 when government funding for Queensland Arts Council's remote area touring ceased.
Since 2006, however, Queensland Arts Council and the schools involved were able to secure special project funding through the Federal Government's Regional Arts Fund and Priority Country Area Program (PCAP). The 2008 tour has also attracted corporate and artistic partners including Q Music, State Library of Queensland and Zeal Theatre Queensland.
The Cape tour will be facilitated by Queensland artists, Adam Drake and Sam Foster from Zeal Theatre who have extensive experience in working with Indigenous youth. Indigenous actress Sandy Greenwood will be involved alongside the Arts Council's Education Queensland seconded teacher and project manager, David Jackson, as well as musician Roz Pappalardo – one half of the popular Queensland band, Women in Docs. Pappalardo's engagement is funded by Q Music.
The artists will deliver workshops and performances of a multi-media approach to Prep to Year 10 students from Pormpuraaw and Kowanyama State Schools. Planned activities include filmmaking, song writing, clay animation, physical theatre and role-playing. The students' experiences will culminate in the development of live and recorded performances, to be shared in a community screening.
In addition to youth workshops, Roz Pappalardo will use her expertise to facilitate song writing and recording sessions for the communities' emerging and established musicians. She will be collecting entries for Q Music's Q Song Awards, which is present in Brisbane in August.
Arthur Frame, Queensland Arts Council's CEO, says, 'We've been touring live arts into remote and isolated Indigenous communities for over 40 years, and we are always welcomed in the most positive way possible. The children are always engaged and excited to be exposed to such a creative and cultural experience that isn't available to them locally.
'It's great to see the tours to these regions have evolved into fully interactive, multimedia projects, with the children getting hands on, singing and performing for their community,' says Mr Frame.
Amanda Helmore, Classroom Teacher, Pormpuraaw State School says, 'The workshops will allow the school community access to specialist artists from outside of the community. This will create unique opportunities for students to learn, develop and expand on skills in the arts.'
The tour comes in the same month as Queensland Arts Council's On the Up and Up project held in Mount Isa, focussing on regional Queensland's 'youth at risk'. The project, also in part funded by the Regional Arts Fund, involves a series of workshops and performances aimed to develop self-evaluation skills and social transition over a period of 15 days. A resulting documentary of the process will be broadcast by NITV.
Past Queensland Arts Council tours include Torres Strait, Palm Island, Birdsville, Camooweal and Mornington Island.