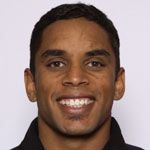 Deadly Vibe Issue 74
After signing a three-year contract with Panthers, he is now a resident of Glenmore Park and is enjoying his time there. "From the water to the bush" was Preston's response when asked if he was living in Penrith.
"I like living here," he says. "I know people and have made some good friends. I have my own place and that will give me security for my family. My signing will also give me security for my league career."
Joining the team last November, he is fitting in well and feels at home with his new club. "They are good blokes up here," he says. "It's been an easy transition for me since I already know a few of them.
"I couldn't wait for the season to start," he says. "I'm fit and ready and raring to go. I don't know what position I'll be playing yet – I'll just have to wait and see. I'll probably start as a utility player."
For such a high-profile player with extraordinary talent, his expectations for this year are pretty much down to earth. "I'd like to play as much game time as I can," he says. "We have a competitive team with a good blend of experience and youth. There are a lot of talented local juniors here under the age of 22."
As for the golden point rule that will be introduced this year (see Gimme Five), he says: "I reckon it will be all right. It would be harsh to criticise the refs if there is any controversy because they're only doing their job."
He has a lot of respect for coach John Lang, who he played under at Cronulla when he won the "˜Dally M' player of the year award in 2001. "I can learn a lot from John, not only about football but also about life in general," Preston says.
We wish Preston all the best this year and hope he can recapture the form that made him league's most exciting player.
(end)
Name Preston Campbell
Position Utility back
Date of Birth 07/06/77
Height 172cm
Weight 76kg
Preston stands in at a mere 76kg, making him one of the smallest players in the NRL. But what he lacks in size, he makes up for in ability.
The zappy little winger has been in great form this year, showing his remarkable speed and sidestepping prowess every time he gets the ball. Preston's conversions have been instrumental in the Sharks securing early victories in the first three rounds.
In Round two Preston's magic boot kicked his side to a 13-12 victory over the Eels and again the following weekend over the Raiders18-12.
Is there a representative position looming for Preston this year? Well, he says, he's just happy to play first grade and achieve his best.
Watch out for Preston's boot as he continues to kick the Sharks to the top of the ladder.