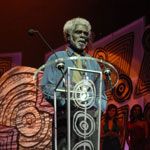 Peter's Pride
Deadly Vibe Issue 116 October 2006
Ten Canoes reaps more rewards as a humble filmmaker is recognised for his work.
It was a Top End night at the Deadlys 2006. When Peter Djiggir was announced the winner of the Deadly for Outstanding Achievement in Film or Television, the crowd responded with a thunderous reception that shook the Concert Hall to its very foundations.
Peter won his award for his work as co-director for Ten Canoes, the critically acclaimed Indigenous Australian film that is now in the running for an Oscar. Peter's assistance as co-director was vital during the shoot. He was involved extensively in casting, locations and logistics, and was a key liaison between the Yolngu community and balanda (whitefella) crew.
Peter truly deserved his award; not just for being an accomplished and talented filmmaker, but also for being a proud Arafura man who has achieved his goal of sharing his peoples' story with the world.
In a fitting speech, Peter accepted his award in Ganalbingu, with just a brief thank you in English in closing. Despite so many of the audience being unable to decipher his words, Peter's message was clear " he was immensely proud to be recognised in this way, and he was immensely proud of his work.
But Peter's pride was also the pride of an Aboriginal man fortunate enough to own his own native tongue " a gift that so many of us have never had the chance to receive.