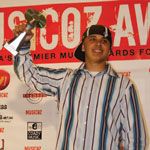 Making the Konect-ion
A young Indigenous hip hop artist wins an opportunity of a lifetime
A young hip hop artist from Griffith in NSW has been given the key to the door of the notoriously tough Australian music industry.
Konect-a-Dot (aka Paul Penrith) won the 2006 CAAMA Music Best Aboriginal and Torres Strait Islander Artist Award at the Musicoz Awards, held on November 14 at the Enmore Theatre in Sydney.
Konect-a-Dot is only 19 years old, however he has already performed in many areas, including as a support act for Kid Confucius in Sydney and at Klub Koori, an Indigenous hip hop showcase held at Sydney University.
Music has had a huge impact on Paul's life, especially hip hop and rap. He was a finalist in the 2005 Musicoz Awards in both the Hip Hop and Aboriginal and Torres Strait Islander categories, and was also a nominee in the 2006 Deadly Awards for Most Promising New Talent.
Paul writes all his own lyrics and produces his own music. He is currently in the process of writing an album. As part of his prize, Konect-a-Dot has now been signed by CAAMA, Australia's leading Indigenous music label.
The Musicoz Awards are Australia's Premier Music Awards for Unsigned and Independent Artists. Nicknamed" the Unsigned ARIAs", the awards are a great way to recognise the efforts that artists have put in and the contribution they make to the Australian music industry. Awards are given in 18 categories, including rock, pop, hip hop, acoustic and country.
The awards give unsigned artists the opportunity to showcase their talents, and gain exposure to the heavyweights of the music industry. Prizes include cash, studio time, and equipment.
Other finalists in the CAAMA Music Best Aboriginal and Torres Strait Islander Artist Award were Street Warriors from Newcastle in NSW, Troy "˜n' Trevelyn from Springfield in QLD, Brenda Hall from Woree in QLD and the MERRg from Seacombe Gardens in SA.