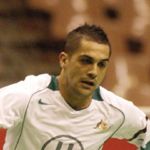 Deadly Vibe Issue 95 January 2005
On strike
While league and AFL may be the most followed sports in Australia, there is only one world game, and when it comes to global sport, soccer or football rains supreme.
While our national side continues to improve, there are quite a few promising young Indigenous players on the rise amongst the Australian Soccer Ranks. You have probably already heard of Fred Agius, and of course, Jade North, but another extremely talented and successful indigenous footballer you may not know about is Lachlan Wright.
While Lachlan has excelled in the outdoor form of the game, it is in indoor soccer where he has reached some admirable heights.
Lachlan Wright recently traveled to China to take part in the 2004 Soccer World Cup as part of the Australian indoor soccer team.
While the Aussies didn't fare so well in the tournament – unfortunately losing all three games – for Lachlan it was nonetheless a great learning experience.
"Obviously I was disappointed with results, because we were expecting to do much better," says Lachlan
"The narrows loss against Thailand in our last game was tough because we had just beaten them in a tournament held in Brazil, just prior to the World Cup.
"But we have very young team which is a real positive, and we can probably keep this same team together for another two World Cups, so I'm sure that next time around, with a few more international games up our sleeves, we can do it much better."
Not only is the 23-year-old a talented sportsman, he is also extremely proud of his Aboriginal heritage. He has been playing indoor soccer since the age of six, representing both his state and country on many occasions.
The game that he loves so much has taken Lachlan around the world, to places such as Brazil, the Netherlands, Sweden, the United States, Argentina and Portugal. On each of these occasions, he has captained the national team.
Lachlan also excels in the outdoor soccer arena. Having had stints in the junior ranks with Sydney Olympic and Parramatta Power he now plays for the Inter Lions in the Sydney first division. Lachlan was also awarded the ATSIC and NAIDOC Sportsperson of the Year in 1993, and he has spent time with both Leeds United in England, and Benfica Soccer Club in Portugal.
"Now that the World Cup is over I can get back to concentrating on outdoor soccer a bit more," he says.
"At the moment I just want to stay fit, keep building my confidence and then head over to Europe or Asia for some trials."
With his first taste of World Cup football behind him, Lachlan is now hungry for more.
"The highlight of the tournament was coming out and playing against Brazil in our opening game," he says.
"Brazil is the team that you grow up watching and dreaming about playing against as a kid, so even though they beat us by a big margin it was a great experience.
"Anywhere outside of Australia, soccer and indoor soccer are huge, so it was great getting to play in front of people from around the world."
(story 1/1/2005 end)
While the football season has just begun in the codes of rugby league, rugby union and Australian rules, it is coming to a close in soccer's national league.
That means big things for one player, Lachlan Wright, who is bound for England to try his luck in the football trials there and hopefully sign with a club.
Hailing from the north coast of NSW, Lachlan has loved soccer ever since he was a child. Now a strapping 20 year old, Lachlan is thrilled at the possibility of playing in a country where they are as fanatical about the sport as he is!
Lachlan knows they're nuts about soccer over there because he's already been to trials three times. This time, however, Lachlan is confident that he possesses the age and experience to be chosen.
"I don't really mind who I play for, just as long as I am playing," says Lachlan. "And because soccer is the number-one sport in England, I'll have the opportunity to earn more money than I would playing in Australia."
"I want to go as far as I can with soccer," he says. "I want to make a career out of it. And after my football career I want to help Aboriginal kids get the same opportunities that I had when I was young."
Currently residing in Sydney, Lachlan works for the National Indigenous Arts Advocacy on the Label Of Authenticity.
A centre mid-fielder player for local team Parramatta Power, Lachlan is temporarily off the field due to a sports injury. But come August, he'll be raring to show the poms what he is made of.
Vibe wishes you all the luck in all your soccer endeavours, Lachlan.