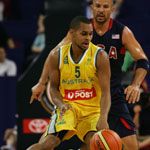 In one of the biggest moments of his young career, Indigenous basketballer Patrick Mills has stared in the Boomers exhibition match against Team USA in the lead up to the Beijing Games.
The 19-year-old, who was raised in Canberra, recently finished a hugely successful first year at St Mary's College in the United States where he has been touted as one of the top college prospects in the U.S.
His impressive display against Team USA was reminiscent to that of former Boomer Shane Heal who in 1996 earned himself a contract with the Minnesota Timberwolves thanks to a standout performance against the Dreamteam in the lead up to the Atlanta Games.
"It was my first experience playing against the USA," said Mills after the match.
"I was a little bit nervous at the beginning, but once you get on the court it is all excitement. This is one game that I learned a lot from. From the point guards to their big men and just the style of play the USA has … I learned a lot."
Mills was joint top scorer for Australia with Chris Anstey but it was the way he scored against a team filled with NBA superstars that raised eyebrows.
Running the floor hard, he dished off with vision, and pierced through the powerful US defence again and again despite being the smallest man on the court.
"I've been in Australia a long time, and you guys probably know better than I do what an NBA player is, but I thought tonight he held his own. He's lightning quick," Boomers coach Brian Goorjian told American journalists after the match.
US coach Mike Krzyzewski admitted his team had done no preparation for Mills and simply had no answers for his speed.
"He had a great game," Krzyzewski said. "In the games that we watched [beforehand] he wasn't a driver for them. Today he played just great. We need to expect that from people when they play against us. It was almost like he had nothing to lose … we had to play good fundamental defence and he just beat us."