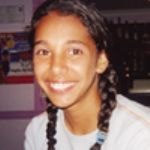 Deadly Vibe Issue 75
It's not much of a surprise that Norayah Hewitt's favourite animal is a cheetah " she spends a lot of her time acting like one and running as fast as she can.
Norayah, who lives on the Gold Coast, is so quick off the mark that she took out the Australian cross-country U12 title in Sydney recently. She is also a champion at long distance and relay events.
One day she hopes to compete at the Olympics, just like her idol Cathy Freeman.
She trains a couple of mornings a week with her school club " she goes to AB Patterson College at Arundel " and she also goes on training runs with her older brother Ashley, plus two sisters called Ashley and Courtney Gilfinnan, who are 15 and 14 respectively.
All this activity means that Norayah gets up really early " sometimes at 5am in the morning! Wow, she must feel exhausted sometimes!
Norayah first put her running shoes on when she nine years old and at primary school in Newmarket, a northern suburb of Brisbane. "I went running one day with a running club and the coach said she saw some natural talent in me," Norayah said.
It wasn't long before she tied for first place at a cross-country race. Norayah said: "I started to really like it every time I did it."
When she was 11 years old and in Year 6, she had the thrill of her life when she was taken to one of Olympic champion Cathy Freeman's training sessions in Melbourne, where she got to meet her idol and give her a picture of herself.
Cathy was amazed that Norayah was as tall as she was, and she was so down-to-earth that she even gave Norayah and her dad Ray a lift back to their accommodation.
" I got to sit in the front of the car with her," says Norayah. "That was so cool!"
As Norayah has grown older, she has had to run longer distances in the cross-country event: the under 10s run two kilometres, the under 11s through to under 13s run three kilometres and under 14 through to under 16s run four.
" Before a race it always looks like it's a long, long way," Norayah said. "I always like to go out with the leader and usually I stay with them.
" Towards the end, I start picking the pace up and when it comes down to 100m or 200m to go, I put the pace on really hard."
It sounds like a winning formula to us! Good luck with your next race, Norayah.
What is your full name? Norayah Joy Hewitt.
How old are you? 13.
Where are you from? My family is from the Torres Strait.
Where's home? Parkwood on the Gold Coast.
Were you born there? No, I was born in Gladstone in central Queensland.
Are you the oldest, somewhere in the middle, the baby or an only child? I'm in the middle. I have an older brother Ashley who's 14 and a younger brother Bradley who's 11.
What do your friends call you? Norayah.
Who was the first professional athlete you watched in action or at training? I saw Cathy Freeman training in Melbourne in 2001.
When did you start running? I started running at age nine, and I started training at the beginning of 2002.
If you could form the ultimate relay team with your choice of runners, who would they be? For a 4 x 400m relay team, I'd run with Cathy Freeman, Tamsin Lewis and Jana Pittman.
What's the funniest thing that's ever happened to you while you've been training or competing? My birthday was on a training day, on a Thursday. Five of my friends turned up at training to sing Happy Birthday to me in front of everyone.
What's your favourite song right now? Work It Out by Beyonce Knowles.
Who is your favourite Aboriginal or Torres Strait Islander athlete? Cathy Freeman.
What has been the most fulfilling experience in your life so far? I won the U/12 Australian Cross-Country Championships.
What is your best asset? My smile, my personality "¦ and probably my love of running.
Who's real deadly in your eyes? Cathy Freeman and Georgie Clarke "¦ she set the Australian record for the 800m U/12 of 2:17. My best time was 2:21.
If you could have anything printed on a T-shirt you had to wear for the rest of your life, what would it say? Probably what Cathy says: "Never give up, dreams can come true."
What's your favourite part of Australia? The Gold Coast.
You're invited to a fancy dress party. Who or what do you go as? My favourite singer, Beyonce Knowles.
What animal are you most like? A cheetah " I have a poster of one on my bedroom wall.
Make one prediction about 2003. I'll make it at the national Australian Cross-Country Championships. The winner and the second-place-getter are automatically selected for the U/16 team that goes to Italy in 2004.
Where do you see yourself in 10 years' time? Going to the Olympics and doing my job as a police officer. I like the idea of helping out in the community.
(end)