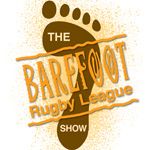 On the 100th Anniversary year of Australian Rugby League, National Indigenous TV will launch the world's first Indigenous NRL Panel Show. The live national broadcast will air on Thursday 6th March from 6:30pm " 8:00pm AEST on Channel 180, on FOXTEL and AUSTAR.
National Indigenous TV and Maling Productions Pty Ltd are proud to announce this joint production titled "The Barefoot Rugby League Show". The program was the idea of Executive Producer Paula Maling, and has been a work in progress. This idea is now being bought into fruition as a world premiere.
"Because Rugby League plays such an integral part in the Aboriginal community, and it is an area where we as a people excel, I felt the need to highlight past, present and future Rugby League players, and our community's involvement from a grass roots level to the professional level" said Paula.
"The Barefoot Rugby League Show" will promote Rugby League from the grassroots to the National Rugby League competition across NSW, QLD and NT. The show will air every Thursday as a 90 minute live panel over the 32 weeks of the NRL season. It launches as a part of NITV's Sports Kick Off month in March.
NITV CEO Ms Patricia Turner welcomes the program as an innovative and much needed addition to NITV's showcase.
"Barefoot" is a bold and unique show… it is also a very important show, because it will positively encourage youth to seek a career path, promotes better health and wellbeing and will celebrate the sporting talents of our peoples across the nation", Said Ms Turner.
The show line up includes; Weekly NRL match highlights and the latest news and views on Indigenous NRL. Further highlights include, yarns from local communities and junior rugby league teams, coverage of regional and junior competitions in NSW, QLD and NT, and live music.
Filmed at the St George Leagues Club in front of a 200 strong Indigenous audience, the show will feature Indigenous sporting hero David Peachey, rugby champion Tony Currie and will be hosted by Brad Cooke.
"To be able to talk about the "˜Greatest Game of All', especially our Indigenous player's is a dream come true for me. I will passionately and openly discuss the role Rugby League plays in our communities and help to promote it to other parts of the country. I can't wait until March 6!" said Brad.
Co- host Tony Currie is also inspired by the talent and the game and eagerly awaits the launch of the show.
"Sport, especially Rugby League, has played an enormous part in the development of who I am. The Barefoot Rugby League Show will enable the Indigenous community to showcase the enormous talent that exists within and express this talent on a stage viewed not only by our people, but by mainstream Australia", Said Tony.
Regular guest panellists include; Ricky Walford and David Liddiard. Phillipa McDermott and Professor Larissa Behrendt will also join the team this season bringing a female perspective to the panel discussion. A regular News section will be presented by Eloise Watego and will cover the highlights of the NRL plus community games.
The panel are complimented by the buoyant roving reporter Wes Patten who yarns with community teams and fans of the beloved game. And Nathan Blacklock, the Regional Reporter covering community news and games.
In 2007, there were just 39 Indigenous footballers in the NRL and four of the Top 6 Dally M Finalists were Indigenous. This year, there will be more than 45 players in the NRL, which indicates that this is a growing market that deserves attention and television promotion.
The Barefoot Rugby League Show is an exciting broadcast development which will give Aboriginal and Torres Strait Islanders a voice and a platform to support their much loved game, Rugby League.
Tune in to "The Barefoot Rugby League Show" this Thursday on NITV, Channel 180 FOXTEL and AUSTAR.