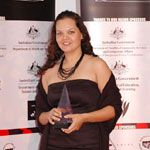 Future Calling
Deadly Vibe Issue 116 October 2006
Our Trainee of the Year wants to lead by example.
It was a visibly shocked Nicole Zimmermann who made her way up to the stage after being announced the winner of the Deadly for Trainee of the Year.
Nicole works for the Australian Customs Service in Darwin, and started her career as a trainee with Customs in Canberra through the Indigenous entry level traineeship program.
"I was working as a waitress and had been looking for a job in the public service when I found the Indigenous traineeship opportunities advertised on line" Nicole said after the event. "I only had some administrative experience, but I thought "˜I can do that', so I put in an application.
"I got good support from other participants on the traineeship program, and made some good friendships. Now I have contacts and networks in other agencies that I can use to my advantage.
"My main message to others would be to believe in yourself. The fact that I've got to where I have shows others that they can do it too."
University is next on Nicole's agenda, as she hopes it will give her the knowledge she needs to further her career.
"I feel very honoured to receive this award," she said. "I hope that it will inspire other Aboriginal and Torres Strait Islander people to believe in themselves and follow their passions."