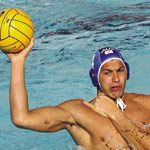 Deadly Vibe Issue 92 October 2004
Nathan Thomas, men's water polo, captain
Second-time Olympian Nathan Thomas had the added honour of being named team captain for the men's water polo Olympic squad, the Sharks. He had previously played for Australia at the Sydney Olympics in 2000.
Nathan was also appointed captain of the national team for the 2001 world championships, and also led his team to the 10th FINA World Championships in 2003.
He was a member of the Australian team that finished fourth at the 1998 FINA World Championships, and was also in the team that finished third in the 1993 FINA World Cup, beating the US in the bronze medal playoff to win Australia's first medal in a major international water polo competition.
Nathan has also won a gold medal at the 1995 Hungarian Cup and bronze medals at the 1995 and 1997 Universiades (World Student Games).
At the Athens Olympics, Nathan and his team finished in ninth place.
(Story 1/10/2004 end)