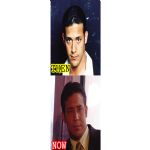 Deadly Vibe Issue 97 March 2005
Play for today
From host with the most to filmmaker extraordinaire, Nathan Ramsay is a man of many talents.
Fans of the popular and groundbreaking SBS program ICAM will be well acquainted with one of the show's hosts, Nathan Ramsay.
For four years Nathan was the face of ICAM, a young and talented Indigenous man who encapsulated the vibrant and diverse nature of the new generation of Aboriginal youth in Australia.
Originally from Darwin, Nathan was a talented sprinter and athletics champion, but found another calling in acting, which would eventually lead him to the renowned National Institute of Dramatic Arts (NIDA) in Sydney.
"When I moved to Sydney, I had concerns about the possibility of losing touch with my culture," Nathan says. "So when the offer to do ICAM came along, I looked at it as a great opportunity to maintain and strengthen those links to my culture and my identity."
As a host of ICAM, alongside Rachael Maza, Nathan travelled nationwide, hearing people's stories and gaining an insight into the workings and issues confronting a myriad of Indigenous communities. In doing so, not only did he reaffirm the knowledge of his culture, he enhanced it by learning a great deal more about the diversity of his people than he ever thought possible.
"Being part of a show that was the first of its kind is something to look back on and be proud of," he says. "ICAM was the first program of its kind to be produced, written and presented by Indigenous people.
"Not only were we talking to non-Indigenous Australians about our culture and our people, we were also informing the wider Indigenous community about each other. It really pulled us all together and put us on the map."
Following ICAM's final year in 1999, Nathan fell back into his passion for acting. Recently he made Dope, an Australian feature film set to be released in April.
However, Nathan has proven himself to be exceptionally multi-talented, and has been involved in range of different positions, while always remaining heavily involved in the Indigenous community.
He's been a news reader on Imparja television, a presenter of the Deadly Sounds radio program and has starred in a number of Indigenous and non-Indigenous plays. He's also hosted the Survival Day concert in Sydney and several Deadly awards.
"A career in acting can be tough when you're judged on your looks rather than on your talent," Nathan admits. "Many times I've gone for a part only to be turned down because I simply did not look Aboriginal enough!
"Then there's the difficulty of breaking out of the typecasting, and in finding mainstream roles."
One sure way to overcome this problem is to write, produce and act in your own film, which is just what Nathan has done. Earlier this year, he entered his film entitled Prejudice into Tropfest, the world's largest short film festival. The film made it all the way into the final round, and missed out on a place in the top 16 by just four spots " an amazing achievement considering there were more than 750 entries.
"The film is essentially about me," says Nathan. "Being a part of new generation of Aboriginal people, being of mixed blood and maintaining a strong and passionate connection with my culture and people."
Prejudice is a powerful film that makes a very strong statement about reconciliation between black and white Australians today. Nathan plays a leading role, and is helped along the way with some impressive special effects, as well as a few famous faces.
Nathan now plans to spend more time working on the film before entering it in other film competitions around Australia. Prejudice will be featured in Tropfest's Best of the Rest collection.
(story 1/3/2005 end)