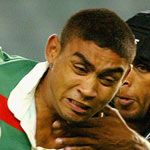 Deadly Vibe Issue 80, 2003
Nathan Merritt has just finished a second impressive season in the NRL, but at times he still needs to pinch himself when he realises he is now living his dream.
"I wanted to play first-grade football ever since I was little, growing up in Waterloo and Redfern watching South Sydney," says Nathan, who is still as much a fan as he is a player. "I think it still hasn't hit me yet that I'm playing first-grade. It's probably going to take a few more games," he adds, laughing.
At only 20 years old, it's understandable that Nathan is still getting his head around his rapid rise as one of the league's most exciting young talents. After all, it wasn't so long ago that Nathan was running around Redfern Oval with the Alexandria Rovers as a South's junior.
When Souths were readmitted into the competition in 2001, Nathan was one of the first players contacted by coach Craig Coleman.
Despite his age, Nathan's blistering form in the premier league ensured he couldn't be kept out of the first-grade side for long, and in the Rabbitohs' comeback season he scored a try on his debut against the New Zealand Warriors. In only one game of first-grade football, Nathan's potential was clear for all to see.
In the seven first-grade games he went on to play for the Bunnies in 2002, the local lad quickly became a favourite with the red and green army.
In 2003, Nathan continued the great start to his career. Displaying his silky skills and exciting play, he was one of the Rabbitohs' major attacking threats and strike players throughout the season. His greatest assets were his pace and step, and his ability to avoid tacklers and put on a try.
"I think I improved in all areas of my game this season but it was my defence that I concentrated on the most," says Nathan. "I've also worked on my speed and getting faster."
In round five, Nathan sealed the Rabbitohs' first win of the season when he scooped up a loose ball in a tight game against the Tigers and sprinted the length of the field to score. Souths' players and fans celebrated as if they'd just won the grand final. The try was the highest point for Nathan in a rocky season that ended with the battling Bunnies scoring the wooden spoon.
"It was a tough year because the club was struggling," says Nathan. "I scored a few tries, which was good, but towards the end of season I was moving up and down between first grade and the premier league a bit, which was disappointing"
It was clear to see that in Nathan the struggling Rabbits had a genuine future superstar on their hands. So, not surprisingly, when news broke that Nathan had signed to play in 2004 with the Sharks, a call of protest swept the Souths district, which was yet again seeing one of its homegrown talents move to a rival club.
"Leaving the club was a really hard decision to make," says Nathan. "I'm still coming to terms with just how big a move it is to make. It will take some time for me to adjust to playing for a team other than Souths. But in the end it was a decision that I had to make. In terms of my career and what was going to be good for me, I have to look after myself."
While there is sadness about Nathan leaving his hometown club, the new opportunities that will present themselves at the Sharks makes this an exciting time in Nathan's budding football career.
"I'm looking forward to playing with the Sharks," he says. "I think that they will help me to improve my football and become a better first-grader.
"It all depends on how I go in the pre-season and at training. I'm expecting to play on the wing. But I'm pretty confident as long as I play and train hard I'll be OK."
After a disappointing 2003 season, the Sharks will be looking to turn things around next year. Nathan's proven attacking flair will be a welcome addition to their 2004 campaign.
"With some good attacking players coming to the Sharks next year, like Nigel Vagana, I'll be trying my best to help the attack and put some points on the board," says Nathan. "Hopefully, I can score a few tries and cement my place in the first-grade side."
| | |
| --- | --- |
| What's your full name? | Nathan Deane Merritt. |
| When were you born? | May 26, 1983. |
| Where are you from? | Redfern/Waterloo. |
| Do you have a nickname? | Max. |
| Do you have any brothers or sisters? | I have one sister. |
| What has been your favourite place to play football in Australia? | Redfern Oval. |
| How old were you when you started playing football? | Four or five. |
| What do you remember about your first-grade debut game? | I scored a try on debut. |
| What are your favourite colours? | Red, black and yellow. |
| Do you have a lucky number? | Three. |
| What's the funniest thing that has happened to you while playing football? | Having my pants pulled down while I was being tackled. |
| Who is your favourite Aboriginal/Indigenous football player? | Gorden Tallis. |
| What has been the most fulfilling experience of your life so far? | Playing first-grade football. |
| Who is real deadly in your eyes? | My parents and my sister. |
| If you could travel anywhere in the world where would you like to go? | America. |
| What's your personal motto? Stay black. | Where do you see yourself in 10 years' time? Hopefully still playing first-grade football. |
Deadly Vibe Issue 71 January 2003
There was much rejoicing when South Sydney Rabbitohs were finally accepted back into the NRL after being out in the wilderness for two seasons.
Alas, their performance in 2002 was less spectacular than many had hoped it would be. However it must be remembered that, by the time the NSW Supreme Court ruled in their favour, it was late in 2001 and many top players had already been snapped up by other clubs.
Overall, the Rabbitohs' return was rather disappointing. But some players demonstrated remarkable skill on the field. One of those is 19-year-old Nathan Merritt, a Wiradjuri fulla from Cowra way who looks set to help the club regain some of its lost kudos this season.
Having just signed a one-year contract with the Rabbitohs, Nathan is looking forward to cementing a permanent spot for himself in first grade.
"I've supported the Rabbitohs since I was a kid and always wanted to play for them," says Nathan, whose grandfather, Eric Robinson, played on the wing for Souths in the 1960s.
A Souths junior, Nathan played for Alexandria Rovers and Moore Park before being picked for the SG Ball team. In 2001 he was selected to play at fullback for the NSW U19 side against Queensland in a curtain raiser to the State of Origin.
"That was a real experience playing up there," he says. "They were extremely vocal and gave us heaps. It was a real challenge to play and perform well in that atmosphere!"
Nathan really came into his own in 2002. As well as being selected to the NSW U19 side for the second year running, this time as a winger, he was promoted to the senior level with the Rabbitohs.
He won't forget his first grade debut, against Auckland Warriors.
"We were in Auckland and I came off the bench to play the second half. I was pretty nervous but once I got out there I was all right. I remember thinking how big they were! It was a great feeling to score a try on my debut."
Nathan notched up a total of seven first grade games for the Rabbitohs and hopes to improve on that this season. Standing 183cm tall and weighing in at 89kg, he has the ideal build for an outside back.
"I've played wing, centre and fullback, but I'm not sure yet what my favourite position is. At the moment I'm in training, learning new drills and different aspects. It can only be of benefit to me."
Not to mention Souths. We reckon this is one rabbit who won't freeze in the spotlight.