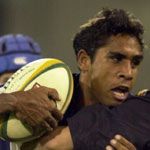 style="text-align: left">Deadly Vibe Issue 42 July 2000
Andrew Walker
Dual International
Andrew is portrayed as one of the most talented players in either Rugby League or Rugby Union, and has now has the Australian jumpers to prove it.
Andrew is now the first union-rugby league dual international since St George's Scott Gourley in 1991. In 1996 Andrew played in the League Test for Australia against Papua New Guinea and was also this years leading try-scorer in Super 12.
Andrew was over the moon to be selected on the bench for the Bledisloe Cup clash with the All Blacks at Stadium Australia. He thought it was a great honour, and surprised at his selection because as he says he is still learning the game, but to others it was widely anticipated.
Andrew has full support from coach Rod Macqueen, who says Andrew truly deserves his spot on the squad and is confident he is up to the challenge.
Andrew is described to have the ability of his first cousin Llyod Walker and the Ella brothers to find an opening that nobody else can.
Andrew also understands the importance of younger Koori kids coming up in the world to have an education, self belief and strong support.
Andrew, when not in training, loves spending time with his wife Leona and his three children. To relax, Andrew cycles and plays golf as well as touch footy for fitness.
Andrew "˜Walks" Walker was born on 22 November 1973 in Bomaderry near Nowra NSW and is part of the Wiradjuri nation. Andrew began his high profile football career at the early age of 16 years old with Randwick First Grade.
This talented young football star has truely come along way in his chosen sport, and proved what achievements can be made with love and commitment o the game.
(Story 1/7/2000 end)
Andrew Walker is one of the most gifted players in both codes of football rugby league and rugby union.
Andrew began his road to stardom when he was just 16 years of age with the famous Randwick Rugby Club.
He then switched to league after landing a contract with the mighty St George Dragons in 1991. He stayed with the Dragons for four years before moving on to the Sydney City Roosters in 1995.
In 2000 Walker switched back to rugby union with little difficulty and become the Super 12s' leading tryscorer, earning himself a spot in the Australian Wallabies.
Andrew is the first dual international rugby league/rugby union player since St George's Scott Gourley in 1991.
Name:
Andrew Walker
Nickname:
Walks/Uncle
Date of Birth:
22 November 1973
Place:
Shoalhaven, NSW
Height:
177cm
Weight:
80kg
Sport:
Rugby Union
Club:
ACT Brumbies
Position:
Fullback
Marital Status:
Married
Occupation:
Professional rugby player
Sporting Achievements

Australian Under 17s
NSW Under 21s
Australian Under 21s
1991-94St George Dragons
1995-99Sydney City Roosters
1996Australian Kangaroos
2000ACT Brumbies
2000Australian Wallabies