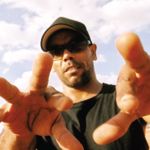 Deadly Vibe Issue 101 July 2005
Taking it to da streets
This MC brings power to the people with his own brand of "abodigital" hip hop.
Wire MC, a a Gumbayngirri descendant from Bowraville, on the mid north coast of New South Wales, has been bringing his country rebel beats to the city streets and country towns of Australia for the past six years.
As well as performing at venues and festivals around the country, including Homebake, WOMadeliade, Yabun and the recent Dreaming Festival, Wire MC travels to remote communities around Australia with fellow MC Morganics, conducting hip hop workshops for young Indigenous people. One of these workshops led to the successful Wilcannia Mob, who had a surprise hit with Down River in 2002.
Wire MC also recently corroborated with Morganics on Stereotype – a production that is a mixture of theatre, hip hop and comedy – which has appeared at the Sydney Opera House and other venues around the country
Wire MC sees hip hop as the "new corroboree" for young Indigenous Australians, who are looking for a way to express themselves and their culture in a positive way.
This "funky brotha from da Bowra Mish" has also recently branched out into stand-up comedy, and received a great response to his routine at the Dreaming Festival.
(Story 1/7/2005 end)