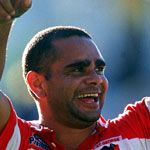 Deadly Vibe Issue 94 December 2004
Always a Tingha boy
After nine spectacular seasons in the NRL, Nathan Blacklock is about to take his try-scoring feats overseas as he prepares to line up with Hull in the English Super League.
But before Nathan heads to the United Kingdom, he will first spend a month back in his home town of Tingha, the place he left almost 10 years ago to pursue his footballing dreams.
'Most people who drive through Tingha probably look out the window and think to themselves, 'How could anybody live here'," says Nathan.
"But growing up in Tingha was great, and you really have to have lived here to know all about that.
"Growing up, I didn't really know much about the rest of the world or what was out there – Tingha is a very different kind of place," says the 28-year-old.
Tingha is situated in the northwestern tablelands of New South Wales, just south of Inverell with a population of only 900.
"When I was younger, I used to jump on my bike and ride out about seven kilometres with my mates to Green Valley Farm, which is an amusement park with a museum, rides, animals and a roller coaster," says Nathan.
"I was always out with my friends, riding around on our bikes, playing sport, pretty much anything so long as I was out of the house. I didn't like to stay at home because whenever I did mum usually had me mowing everybody's lawns," says Nathan, laughing.
Nathan still has fond memories of camping down by the Copeton Dam, fishing and hunting with his mates, who include fellow NRL players Preston Campbell and Owen Craigie.
"During the week we would play a lot of touch football and go rabbit hunting, then spend all Friday night and Saturday fishing – catching plenty of catfish and yellow belly.
"On Sunday, all the families would get together at this place that we called Old Bottom for a big barbecue."
Like many successful Indigenous sportspeople, for Nathan maintaining a strong connection with his community has been vital and something that has always kept him on track.
"Growing up in Tingha was a struggle," he says. "We really didn't have anything, and so now I don't take anything for granted. Growing up in Tingha taught me to take every opportunity that comes my way."
The latest opportunity to present itself to Nathan is the chance to play in England, and now the young boy who never knew much about the world outside Tingha is looking forward to travelling across the globe to continue his impressive career.
"Living in the city is good for establishing your career and following your dreams, but after 10 years of living in Sydney it will be good to have a bit of a change. Going to England will be a real experience and I'm looking forward to it," he says.
While he may be many thousands of kilometres away, it's likely that it will be fishing in the creeks of Tingha and playing touch in the country sun with his mates that Nathan will be thinking about during those cold English winter mornings.
"All of my family are still in Tingha and I try to get back there as much as I can because it's the place that keeps my feet on the ground – I love going home."
(story 1/12/2004 end)
Deadly Vibe Issue 89 July, 2004
Splashing for Tingha
It doesn't matter how famous a person becomes – it's always important to remember where you came from. And St George hero Nathan Blacklock is one celebrity who has never had a problem with 'keeping it real'.
Even though Nathan needed to relocate to Sydney in order to pursue his dream of a football career, his home of Tingha in the northern tablelands of NSW has never been far from his heart. And while he has dazzled the sporting world with his scintillating try-scoring ability, he has always kept in touch with his country roots.
Back in Tingha, where much of Nathan's family still lives, he is a popular role model for all of the town's youth – both black and white. And as his success on the footy field has continued to grow, Nathan has made a point of giving back to his community. Just one of the ways he has done this is by establishing the Nathan Blacklock Youth Trust, which has devoted itself to raising funds so that a public pool can be built in his home town.
(story 1/7.2004 end)
Deadly Vibe Issue 80, 2003
For four magical seasons, Nathan Blacklock mesmerised the rugby league world with a try tally and acrobatic arsenal that most Olympic gymnasts would be proud of. And then, just as quickly as he glided down a 100-metre sideline to score, he was gone from the game, retired at the age of 26.
The news of "˜Tingha's' return to the Dragons in 2003 would have been enough to send shudders down the spines of every NRL defensive coach in the country. Their fears were realised when Nathan returned with the same brand of attacking brilliance he had become famous for in the seasons where he ran rampant over NRL defences.
In his 12 games for the season Nathan scored an amazing 14 tries, proving that his uncanny knack for sniffing out point-scoring opportunities is as strong as ever. His brilliant return to the NRL is undoubtedly one of the stories of the season.
Nathan Blacklock continues to impress the rugby league world with his amazing style of attack. In 1998 he started out strong for the Dragons in his first season of first grade league. Not only was he the leading tryscorer, he was also voted St George's Rookie of the Year. In 1999 Nathan went on to become the league's leading tryscorer, was voted Daley M Winger of the Year and led the Dragons to an NRL Grand Final.
Deadly Vibe issue 66
The man in Blacklock
It's been a long hard slog around the footy field for "˜Tingha'. But disillusionment has met its match in the form of a new challenge, and the Waratahs look set to have a brand new team-mate. Deadly Vibe lobs a Gilbert back and forth with the one and only Nathan Blacklock.
Pullquote: "I just want to get through this season and know I have the opportunity to play for the Waratahs. But yes, my main goal is to make the Australian team."
The monkey is finally off Blacklock's back, and he's got the cheeky grin to prove it. Strolling into Vibe headquarters with his partner Jamie in tow, he is jovial and laidback, his voice warm and resonant. Hardly the "lost soul" that certain sections of the media have been making him out to be.
Okay, so the NRL's leading tryscorer for the past three years was tiring of the game he'd lived and breathed as a first-grader since the age of 19. And, as often happens when one tires of something, Nathan wasn't playing like he used to. He put it down to a number of things, including his father's recent passing and the disintegration of a long-term relationship.
But last year, when "˜Tingha' was flying his highest for the Dragons, he inexplicably failed to win Origin selection. Again. Arguably such a snub had more to do with him losing his love of league than any other factor, although he did play in City v Country and was twice selected to the Kangaroos.
Add to that the fact that ever since bosom buddy Choc Mundine exited the selfsame club in 1999, Nathan had felt alone. "He was sort of like a backbone to all the Aboriginal players there," he says. "Choc held everyone up, you felt secure, you wanted to go out there and play. When he left, everything changed."
As we all know, one code's loss is often another's gain, and rugby union looks set to reap the benefits of league's miscalculation. Nathan Blacklock has signed a two-year contract with the Waratahs and is expected to make his Super 12 debut early next year.
In the meantime he's playing for Sydney's Southern Districts in the Tooheys New Cup. And while he's starting in second grade, Nathan has already been snaffled as a reserve for the main game. On Saturday, 6 July after a second grade match, he made his club rugby debut in the second half against Eastern Suburbs.
Easily taking the match 32 to 8, the Rebels are currently sitting pretty at the next-to-top spot on the ladder. And with Nathan's expertise when it comes to getting the ball over the line, coach John Papahatzis and the lads must be thrilled to have such a seasoned player in their midst.
But back to that cheeky grin and the gentle man behind it. Born in 1976, Nathan is an Anaiwan fulla who grew up in the small community of Tingha in northern New South Wales, hence the nickname. The second youngest of seven children (and the youngest boy), his partners in boyish pursuits were cousins Preston and Tim Campbell, and Owen Craigie.
"It was pretty good growing up in Tingha," he reflects, settling back into the chair as though it were a memory. "We used to go out chasing rabbits, go fishing, play Cowboys and Indians down by the creek and just try to have some fun. Sometimes we'd go camping and hunt for our own food "" what we caught was what we ate. We just tried to make the best of the free time we had."
It wasn't all free time. A diligent student, Nathan was school captain at Tingha Primary School and has fond memories of his time there. So much so that in February he donated his first Test jumper to the school. "School taught me a lot. I really enjoyed that time."
Nathan went on to become the first person in his family to complete Year 12, which he did at MacIntyre High School in nearby Inverell. "My family are pretty proud of me, which really means a lot," he says. "They wanted me to succeed."
Not surprisingly, sport also played a major part in young Nathan's development. He tried his hand at league, soccer, cricket, baseball, basketball and, yes, union too. But league was what he enjoyed most and so he joined local team the Tingha Tigers.
Improving with every game, Nathan was spotted by Sydney City Roosters selectors while playing for NSW's Combined High Schools team at a carnival. After finishing school he moved to Sydney in 1995 and played junior representative football for the Roosters in the Jersey Flegg and President's Cup competitions. Before the year was out, the young centre/winger had scored his first try in first grade under the watchful eye of coach Phil Gould.
After two years with the Roosters, Nathan moved to the Dragons where he consolidated his reputation as a swift winger and sturdy fullback. As the number of tries began to rise, so did Nathan's reputation. In 1999 he became the game's leading tryscorer, a feat he again managed in 2000 and 2001. Yet in spite of these extraordinary achievements, Origin selection remained frustratingly elusive.
Understandably, Nathan's form in the 2002 season wasn't so good "" and he's the first to admit it. "I just lost my passion for the game. I didn't want to stay there and play bad and let the team down. I felt like I needed a new challenge, something to give me that feeling back. I just couldn't get it at the Dragons."
That feeling is now returning, courtesy of league's international big brother. And despite rumours to the contrary, his switch wasn't a snap decision. Nathan spoke to Bob Dwyer and Garry Ella, the Waratahs' coach and assistant coach respectively, when he was off contract last year. They made it perfectly clear that they liked the way he played.
"They said I'd be more suited to union than league. They said that if I came over, they'd give me a go and I'd have an opportunity I'd never have in league "" to play for my state and my country without any hassles."
Agonising at the crossroads, Nathan opted to re-sign with the Dragons and then spent the next few months regretting his decision. "That conversation kept coming back to me through this season. Maybe I did the wrong thing. Maybe I should have gone over to union."
The conversation obviously won over in the end, and now that he has "˜gone over', Nathan is keen to get up to speed as quickly as possible. "When I was a kid I played it and I know the general rules of union. But I've got about six months to work up on my game and get my confidence back. I've gone and bought a Gilbert and started kicking that around!"
Intensive coaching sessions from the Rebels' John Papahatzis will also stand him in good stead as he prepares for Super 12 in 2003, which will also be a Rugby World Cup year. And the venue? Australia. It's like a great big carrot on a stick to this football veteran who never got to play for the Blues. But he's taking it one step at a time.
"I just want to get through this season and know I have the opportunity to play for the Waratahs. But yes, my main goal is to make the Australian team.
I dream of doing that, but I have to make that opportunity happen. No one can do that bar me. I have to put my head down and play as best I can."
How would he feel about marking up against the All Blacks' formidable Jonah Lomu? "It would be good to play against the All Blacks, though I don't know about marking up against Jonah! But I don't care where I am on that field, just as long as I'm wearing a yellow jersey."
If he's selected to the Wallabies, who will Nathan Blacklock give that jersey to? Maybe his five-year-old son, Kyle, who lives back Tingha way. Maybe one of his many nieces or nephews. Then again, "˜Tingha' might decide to keep it for himself. It would be the perfect reminder that outstanding skill is eventually met with the recognition it deserves, even if it means breaking a new code to get it.
In 2000 he performed even stronger, again becoming the top tryscorer and being voted Winger of the Year. Tingha is the first player since the great Ken Irvine (over 30 years ago) to top the tryscoring chart in consecutive seasons.
Name: Nathan Blacklock
Nickname: Tingha
Date of Birth: 04 April 1976
Place: Tingha, NSW
Height: 182cm
Weight: 88kg
Sport: Rugby League
Club: St George/Illawarra Dragons
Position: Wing/Fullback
Marital Status: Partner- Alison
Hobbies: Fishing, relaxing in front of the TV and playing video games
Sporting Achievements
1994 NSW Schoolboys
1994 Australian Youth Squad
1995 Junior Kangaroos
1996 City Under 19s
1997 Aboriginal Sevens Team in the World Sevens