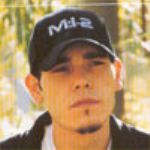 What's your name?
Mathew Wilkinson.
Whereabouts do you come from?
I was born in Parramatta and spent quite a few years growing up in Campbelltown. But I'm now back in Parramatta.
What's your nickname and why?
I don't have a nickname, but I've got a stage name, Montage, because I sing, act, write my own lyrics and poetry. I do a bit of everything.
Do you like your stage name?
Yeah, I love it.
When did you first walk onto a stage? What was it for?
I was asked to perform two of my songs during the intermission of a play on the Gold Coast in 1994 and I got a great response. It was from that point on that I got into acting.
Did you always want to be an actor/performer? If not, what did you want to be as child?
No really. I always wanted to be a rapper.
If you could perform with anyone on stage, who would it be?
Bruce Willis.
Name a song that most describes who you are.
I don't think there is one.
Do you sing in the shower?
Yeah, all the time, it's good practice.
What is your fantasy holiday location?
Colorado, America.
Favourite TV show?
Headstart.
Favourite film?
Jerry Maguire.
Favourite book?
I don't read.
Most embarrassing experience in your life so far?
I really don't get embarrassed – I don't have any shame! Maybe getting dacked at school.
Most fulfilling experience in your life so far?
Working with John Woo in Mission Impossible II.
What would you most like to change about yourself?
Swearing in front of my daughter (accidentally).
Vegemite, Marmite or Promite?
Promite.
Coffee or tea?
Tea.
Favourite food?
Chicken Maryland.
What's your favourite (clean) joke?
I can't tell a good joke because I always stuff jokes up.
Who is your hero?
Bruce Lee.
What's on the cards for the coming year?
I'm working on two movies – The Finder with Paul Mercurio, and Dope.
What is your motto in life?
Only the good die young, then the bad are left to suffer.
With a seemingly infinite gift for performance, Mathew Wilkinson is not only one of Australia's most promising actors, he's also a talented rapper, singer/songwriter and part-time poet!
Since commencing his training at the Australian Film and Television Academy in Queensland in 1996, Mathew's acting career has really accelerated. He's already had substantial roles in ABC's prime-time dramas Wildside and Headstart, and in 1999 he managed to nab a role in Tom Cruise's hit movie, Mission: Impossible-2.
"I played Michael, driver to Ambrose, the lead bad guy," says Mathew. "In the movie I drive after Tom and smash into his car a few times. We actually had stunt drivers for all that stuff, which was good as I didn't have to get my hands dirty!"
Mathew wanted to be a singer long before he thought about acting. His dream finally came true in 1996 when he and a few mates banded together for a three-show rap tour of southern Queensland.
"I like to sing about things that are important to me and issues that need to be raised like land rights, politics and reconciliation," he says.
In fact, Mathew's rapping and singing has worked in well with his acting; his music has been included on soundtracks to films like Black Ice, Sample People and the yet-to-be-released Dope, in which he plays the lead.
Directed by J Harkness, Dope is being billed as a cross-cultural love story that deals with issues of drugs, racism and violence, and features a 24-hour courtroom television network called LAWTV.
"It's about the different kinds of dope that people do," says Mathew. "I play the lead, Jim, who views everyone else's life through LAWTV."
Mathew's also been offered an album deal for the movie, which is due out in September, and says that if all goes well he'll be producing a lot more music in the future.
But right now he's got his sights set on working overseas. "My agent's going to take a show reel of my work to various countries and hopefully something will come of that."
What with everything he's already done, we reckon a lot will come of that. Let's just hope we don't lose a talented young performer like Mathew to another country!