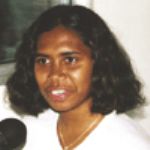 >Deadly Vibe Issue 77 September 2003
Leanna Shoveller describes the SBS documentary she was recently featured in as the deadliest thing that has ever happened to her, and at only 19 she has done some pretty deadly things.
Hailing from the small community of Halls Creek in Western Australia, Leanna has been performing and making music with her father, Frank Shoveller, and the Shoveller Band for most of her life. That makes Leanna something of a musical prodigy.
"I began writing and singing songs when I was five years old," says Leanna. "I played my first gig at eight at the 2001 Stompin' Ground Festival, and I'm the youngest person ever to perform there."
Leanna's father is an inspiring music teacher at Halls Creek High School, and thanks largely to him, music has been a part of Leanna's life for as long as she can remember.
"I'll play just about any instrument that I can get my hands on," she says. "My favourite is the guitar. All of my music is special to me. My songs are based on people, friends and family. We also play traditional music in Karjarri language. Helping to keep our culture is very important to me."
At 13, Leanna began working as a DJ for PRK radio station in Halls Creek while finishing high school. During that time, she also travelled extensively with the band, performing in many desert communities as well as at large events such as Stompin' Ground.
When Mark Bin Bakar (the man behind SBS comedy icon Mary G) approached the Shovellers about making a documentary that followed Leanna and Frank on a journey from Halls Creek to their traditional homeland, Leanna couldn't have been happier.
"Being a part of the documentary was really exciting because it was a chance for me to show others what Aboriginal people can achieve," says Leanna. "My father always told me to grab every opportunity that comes my way and never let it fall."
With an abundance of talent and youthful exuberance, Leanna has no problems finding opportunites, and her latest endeavour involves a move into a new passion. Leanna recently moved to Broome to begin a course in Aboriginal Theatre at the Edith Cowan University.
"I love acting," she says. "I'm a Gemini so maybe that explains why everyone on the documentary said I was a natural actor. I spent a few years teaching choreography to little kids and I also love dancing."
Leanna has always set her sights high, and she has all the confidence and ambition in the world to take her wherever she wants to go.
" I just want to keep going up, and be recognised for my music and for being Aboriginal. I want to do what other people haven't been able to do in the past, and use that to inspire everyone else."
One of Leanna's biggest inspirations is Torres Strait Island singer Christine Anu.
"I've always looked up to Christine Anu," she says. "I admire the fact that she also sings in language and she puts her culture into her music. She also has a lovely voice. I've never met her but hopefully someday I will – that would be great."
Leanna's bright personality and infectious enthusiasm certainly put her in good stead to achieve all of her dreams. From here, as Leanna is the first person to know, the only to go is up.
| | |
| --- | --- |
| What's your full name? | Leanna Marie Shoveller. |
| When were you born? | June 10, 1984. |
| Where are you from? | Halls Creek, Western Australia. |
| Where were you born? | Broome, Western Australia. |
| Do you have any brothers and sisters? | I have three brothers and three sisters. |
| What's your favourite part of Australia? | Melbourne. |
| Do you have a nickname? | My friends call me Lea. |
| Who was the first singer, performer or band that you remember seeing? | Yothu Yindi. |
| When you did you start singing? | When I was five years old. |
| What are your favourite colours? | Black, blue and white. |
| Do you have any lucky numbers? | 7, 11, 13. |
| What's the funniest thing that ever happened to you while you were performing? | The funniest thing is probably when I forget some words to a song and I have to stop singing. It's embarrassing, but pretty funny as well. |
| What's your favourite song right now? | Nelly Furtado's Fly Like a Bird and Frank Shoveller's Mijil Mil Mia |
| Who is your favourite Aborignal/Indigenous artist? | Christine Anu. |
| What animal are you most like? | A dog, because they are man's best friend, even though I've been bitten by one! |
| What has been the most fulfilling experience of you life so far? | The documentary Me and You about my father and me, and my first solo album. |
| What is your best asset? | My voice. |
| Who is really deadly in your eyes? | My dad Frank Shoveller. |
| If you could travel anywhere in the world where would you go? | I'd go to Disneyland for two weeks! |
| What's your personal motto? | Take on any opportunity that comes my way. |
| Where do you see yourself in 10 years' time? | Being a singer, songwriter and actress. |