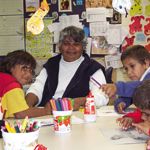 Name: Gloria Dann
Part of being Indigenous is being proud of who we are and where we come from. Sadly, many of our children are growing up with no knowledge of their culture or their heritage.
But for the students of Djidi Djidi School in Bunbury, Western Australia, this is something that will never happen. Not if Noongar Elder Gloria Dann has anything to do with it.
Gloria is the school's Noongar language teacher. Known affectionately as Nana Nora, she is also a role model to the other Indigenous teachers, and cultural adviser to the non-Indigenous staff.
"When I went to school, we had no say in how we were taught," says Gloria. "We never learned about who we were or what our culture was.
"We want our kids to be proud of who they are."
Gloria teaches the Noongar language through song and stories, as well as some good old-fashioned yarning. She qualified as a LOTE (Languages Other Than English) teacher after two years of training, and has now been teaching her native tongue for more than seven years.
"The kids love singing in the Noongar language," she says. "And they often share what their own Elders have taught them."
Students at the school also learn about how their ancestors caught and prepared food, how they respected wildlife and the seasons, and how they built tools and shelter.
"When we first started out back in 1996, we only had a kindergarten class," says Gloria. "But we've been building on that, and now we teach kids from kindergarten through to Year Seven."
The school officially opened its new premises recently, with the building design even winning an international architectural award.
"The community was so determined to have their own school," says Gloria. "It's great to see how you can make a difference when you really try."
The whole community is behind Gloria and her colleagues, with parents and community members involved in lessons and other school activities.
"There's a really family atmosphere to the school," Gloria says. "We know most of the community, and can work together with families if there's a problem.
"It's so important to let Aboriginal people be in charge of their own children's education. The community is really proud of what we've all achieved."