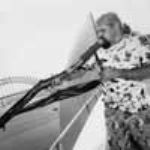 Deadly Vibe Issue 71 January 2003
The didjeridu is now taking its place in the world music, jazz and experimental scenes. Much of this exposure is thanks to the very talented Mark Atkins.
Born in the West Australian town of Albany, Mark, a Yamitji man, has travelled the globe sharing the didj's unique sound with folks from countless countries. His most recent trip saw him perform at CINARS, the prestigious performing arts tradeshow in Montreal, late last year.
"I was playing and this old [American] Indian was sussing me out," says Mark. "He came up to me with an interpreter, who said they were having a world flute festival and that all the flute players had come together. The old fulla wanted to know what my instrument was. I laughed and said, "˜This is the mother of all flutes.' I was sort of joking but after a while I thought, yeah, that's true."
Mark's self-confessed contemporary style of didj playing has seen him jam with some big names including Robert Plant and Jimmy Page of Led Zeppelin, Irish folk singer Donal Lunney, James Morrison, Jenny Morris, John Williamson, Christine Anu and Tiddas.
In one recent collaboration, he performed with acclaimed modern composer Philip Glass at Melbourne Town Hall and New York's Lincoln Centre. It was, according to Mark, his most unusual performance to date.
"Philip was playing this huge big pipe organ. I forget how many thousands of pipes there were, and I'm just playing one! It was a bit of a blow-out " I wasn't sure which way to go at first. But in the end it was just like me having a conversation with this instrument."
In another collaboration, Mark was invited to perform with the prestigious London Philharmonic Orchestra as part of a concert at the Royal Festival Hall in 1996. He puts his musical versatility down to the fact that from a very young age he was listening to, and playing with, other musicians.
"Having musical technique enables me to use the didj like a lead instrument, whereas a lot of people play it more as a drone instrument. I can play on the beat, or behind, or in front, and still be a lead instrument."
America, England, Spain, Belgium, Switzerland, Korea, Singapore and the sails of the Sydney Opera House are just some of the places Mark has been invited to perform. But his proudest moment came last year when he was invited back over to the West to play at the Yamitji Festival in Geraldton.
"When I first started playing, it was different. There was a lot of racism. Sydney was more tolerant, so I left home and started travelling. Then they started singing out, "˜Come home and play bro.' So I went home to play. That was a real honour after all these years, to be acknowledged and to make that contact again with the Elders. They all knew my grandparents and my mother. That's been one of my highlights."
Few musicians can lay claim to actually making the instruments upon which they play. Mark is one who can, collecting hollow logs out in the bush of northwest NSW which he fine-tunes and then paints. Over the years he has honed his circular breathing technique so that today, he can mimic a variety of animal sounds " crow, cockatoo, emu, mopoke, kangaroo " and play continuously for hours on end.
Music has allowed Mark to travel the world, expressing himself and his culture in a way that transcends boundaries. Now a grandfather, he hopes other will follow his example.
"After being an old instrument for so long, the didj is suddenly new. It's been one of the last instruments to join the world music scene. I think what's behind it " namely our people and our culture " gives it more interest. I get sad when I see our young people looking like black American kids. I say, "˜Don't forget your identity " we've got so many opportunities and such a rich culture here.'"