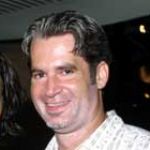 >Deadly Vibe Issue 83 January 2004
For many people, the idea of leaving a well-paid director's position within an Indigenous-run and owned TAFE in order to pursue a dream would seem crazy. However, screenwriter Marcus Waters is proving the doubters wrong.
Marcus, a Gamilaroi man, took the brave step of following his heart just over one year ago and it's beginning to pay off "¦ big time. In that short space of time, he's gone from just believing in his dreams to seeing them start to come true. He recently received a scholarship to study full-time at the prestigious Australian Film, Television and Radio School (AFTRS) in Sydney, and has had encouraging industry feedback on his upcoming screenplay.
"It's all been very positive," says Marcus. "I'm working with a script editor at the moment, Rob Watson, who worked on the Scream movies and was also involved with the film Good Will Hunting. The first draft is completed and is awaiting approval for development funding from the Australian Film Commission."
Marcus made contact with Rob through his producer Richard Stewart, who has already begun working towards developing Marcus's first screenplay into a feature film.
Marcus, the first recipient of the Macquarie Bank Indigenous Scholarship at AFTRS, says winning the scholarship proved to him that all the hard work he has put in since leaving his full-time job at TAFE has been worth it.
"I had to leave a job that paid really well to pursue my dream of becoming a creative writer," says Marcus. "I had hit a wall with work and was no longer enjoying what I was doing. Since that time, I have really struggled financially and at times you really question what it is you are doing. Receiving this scholarship is such an incredible relief. When they rang me and told me about the scholarship, it was like, "˜Wow, hard work really does pay off'. I can't believe how grateful, overwhelmed and humbled I am."
Marcus says he has always loved storytelling and was fascinated with writing from an early age.
"I started taking writing seriously about two or three years ago, but I've always been a bit of storyteller and always loved being the centre of attention," says Marcus. "I wrote my first book when I was about seven years old. It was a children's novel where kids hold a revolution, setting up a group called the kidstapo, and using it to monitor and control parents. The hero was a bit of a nerd at school who got picked on until he suffered an electric shock, which gave him powers to take over the adults' world. He could read people's mind and manipulate their thoughts. I'd watched Planet of the Apes and I thought if apes could take over the world, so could we kids," he laughs.
Following those early days, Marcus turned his creative skills as a storyteller towards a BA in Visual Arts at the Queensland University of Technology, where he studied with actress Deborah Mailman. Upon completing his degree, he began a successful career working in Indigenous education. He won numerous awards, including a State Public Service award for Recognition of Excellence from the Department of Public Works and Housing.
" Look, it was a huge decision to leave work but in many ways I had no choice," says Marcus. "It started after I had a play produced by Kooemba Jdarra in Brissie, and that was such a positive experience that it confirmed for me that I did have talent beyond just telling yarns in front of the mob. Watching the actors breathe life into these characters I'd developed in my mind was just fantastic, and after that my work just wasn't the same. It had become a case of "˜now or never' for me."
Marcus says from that moment on, he was determined to do whatever it took to make writing his full-time profession.
"I was really drawn towards writing after the play," says Marcus. "Sometimes you come to a crossroad in life and you've either got to do it or you don't. In the end, it was the most natural decision to make because I wasn't happy any more doing what I was doing. I love writing. If didn't enjoy writing, I wouldn't do it."
However, it wasn't just a matter of throwing it all in and becoming a writer. Before making the decision to leave work, Marcus had already had 10 works published. Yet despite this success Marcus, a father of five, still knew he would have to somehow make ends meet.
"You've got to have a bit of money to survive so I started a plan three months before I walked out and began putting money away," Marcus says. "You've got to be sensible. In the end, I had just enough income to be able to concentrate on my writing for a couple of months without any distraction. During this period, I treated my writing like it was a job. I'd work from nine to five, Monday to Friday. After three months I had three complete chapters along with a storyboard finished. I started talking to different publishers and HarperCollins replied, saying that they thought my writing was very visual and would suit being made into a film. So from there I started to adapt the original story towards screen."
Having been inspired by the success of his cousin Ivan Sen, director of Beneath Clouds, Marcus decided to apply for a course at AFTRS.
"My Aunty Donella, Ivan's mum, encouraged me to apply for it and I thought, "˜Why not'," says Marcus. "I'm my greatest critic and this self-evaluation was what was most important to me with the application. The selection criteria involved writing two complete scripts and that was over 9,000 words. It was pretty daunting, so I said to myself that even if I didn't get in it didn't matter, as long as I gave my very best on the application and was happy with what I submitted."
For Marcus, gaining entry to AFTRS will enable him to not only learn the tricks of the trade but to also gain access to vital industry contacts.
"I've been told two years at AFTRS saves you about five years in the industry," Marcus says. "They teach you a formula for success when it comes to film and television production. Graduates like Phillip Noyce, Rachel Perkins and Ivan show the incredible talent already nurtured through AFTRS. I just can't wait."
Apart from sheer hard work, Marcus credits much of his success to the support and inspiration of his family.
"My family is instrumental in everything that I do," says Marcus. "That's part of the legacy left behind by my grandfather. He was a fighter pilot in World War II and he was a very learned man. The legacy he left behind was that there is no excuse for failure and that lives on within our family – we won't allow a victim mentality. Our family's experienced just as much pain as any family but we turn that into strength of character and unite as one. My immediate family, Rennae Hopkins and my five beautiful children, together with the extended family really do nurture each other and give each other an incredible amount of support. I think that's why as an extended mob we've been quite successful. Apart from Ivan's success as a director, my cousin Richard Bell also recently won the Telstra award for Indigenous Art."
It seems like supporting each other really does pay off and this is one mob we're going to keep hearing a lot about.