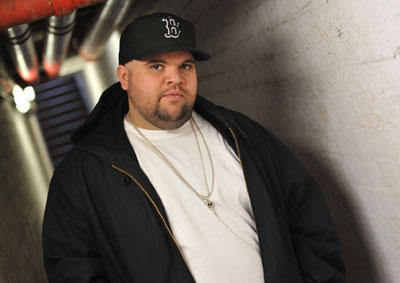 Indigenous hip hopper Briggs, has been rolling with some fine company of late, rubbing shoulders on tour with The Hilltop Hoods and none other than rap icon, Ice Cube. He's also just released his first full length album, and joined us in the Deadly Sounds studio for a yarn.
DS: We've been listening to Wrong Brother, the first single of the new album The Blacklist from hip hop artist Briggs, how are you feeling about it?
B: Good, this is the first full length record that I've made. The reception was something I didn't really prepare for. I never thought that I'd be on the ARIA Urban Charts or on the iTunes charts the way I was, so yeah it was great.
DS: Why did you pick this one as the first single?
BRIGGS: Because it sounded different from everything else that was on the radio at the moment. It's like a big, trudging, hip-hop track. Australian hip hop is a little more up-tempo, a little bit faster, but I wanted to make an impression of my sound and where I wanted to take things with that first single.
DS: So give us a rundown of what this track means to you?
BRIGGS: I was going to a pub in Shepparton. I was about to walk in and security stopped me at the door. I asked what was the problem and he told me to wait here a second and they let a bunch of other fella's in behind me and I was like hang on, what are you doing? Something's up and he got on his little microphone and called his team down and the rest of his squad came out and said, 'nah, it's not him', and he goes, 'ah sorry mate, we got the wrong brother'. I was pretty upset to say the least. It just stemmed from that, it was just a track and I used that for the hook, just because it was…
DS: A case of mistaken identity?
BRIGGS: Yeah, it was a case of mistaken identity but where I'm from a lot of people are pretty far behind in their race relations. So I just took it and turned it into a track.
DS: Now you're a Briggs and you're in Shepparton, so I'm guessing you are Yorta-Yorta?
BRIGGS: Correct.
DS: Tell us about Shepparton, when you were growing up.
BRIGGS: Growing up, I didn't get around too much. The first time I actually saw the rest of the country was when I went on tour with Hilltop Hoods. Growing up in Shepparton, it's big enough not be a small country town but it's just not that big yet. There are still a lot of small minds and a lot of stagnant attitudes as well. I've got a great group of friends here.
DS: You've got a very strong family there, the Briggs family, in all areas of entertainment and arts, and in politics as well. So what do you like to call yourself, a rapper?
BRIGGS: A rapper, an MC, an entertainer, entrepreneur, all round good guy (laughs).
DS: You really exploded onto the scene a little over a year ago, and you also performed on a national tour with the Hilltop Hoods. How did all that come about?
BRIGGS: When I was coming up I was working with another MC by the name of Reason, and he took me under his wing and showed me the ropes. He was one of the main forces in getting me onto the scene and helping me out. From there I started making my own record, which was the Homemade Bomb EP. That's what really grabbed the attention of the Hilltop Hoods and I think that's where it all started to kick off, with that EP. When they heard that, they understood I wasn't messing about.
DS: And they obviously liked you a lot because they took you on a 2009 European tour as well. Then they offered you the gig at Golden Era Records.
BRIGGS: Yeah, well the Euro tour was great. I'd never thought I'd be doing that when I was writing my EP. It was pretty crazy to be in London doing two sell-out shows with the Hilltop Hoods and then around Germany as well, then to come back and do the national tour, that was nuts. It was then that I cemented the deal and decided this is where I want to be, where I wanted to put out my record.
DS: Sounds like a dream run, how did the audiences respond to you?
BRIGGS: Well, especially London, they were like, 'bro, we didn't know Australians did it like that!'Because they were used to the Hilltop Hoods stuff and my stuff is obviously a bit harder and a little bit darker, but they received it well and it was a really good reception around the country.
DS: What was the Ice Cube tour like?
BRIGGS: That was excellent. Just a successful tour and Ice Cube, Dub C and Brother Ron were all really cool – the whole touring party were really cool. It was one of the smoothest tours I've done. It was a dream too because Ice Cube was the rapper that I grew up listening to the most and it was just great. There was nothing more I could have wanted from that tour.
DS: Did you actually get to rub shoulders with him and have a yarn?
BRIGGS: Yeah, every night.
DS: And what's he like?
BRIGGS: He was real cool, real reserved, and polite – Dub C as well. I spent a lot more time with Dub C because he did a lot of the sound checks while Cube was doing press, and stuff like that. Everyone was just really welcoming. It was refreshing to be apart of something like that too – you don't often get the chance to tour nationally with an artist who you grew up admiring.
DS: That sounds unreal. I'm sure you would have stood on the side of the stage and watched his performances?
BRIGGS: Every night! (laughs)
DS: So what did you learn?
BRIGGS: Just everything. A lot of artists now are lazy, especially with their live shows. They don't have DJ's, they don't have their show thought-out or anything like that, and there's no entertainment value in that. A lot of people just go out there, do their tracks and leave. It was refreshing to see a dude like Ice Cube who has been doing it for almost 30 years now and he's still putting on a proper show and he's still killing it, doing it 110%.
I was actually backstage, as he was warming up and I was standing about half a metre away from him watching him about to hit the stage. I think that was probably one of the highlights of my career, watching one of my favourite artists warm up before he did his gig.
DS: Did he have any ceremonies?
BRIGGS: Yeah, he was rapping some old school stuff. I think he did some old Grandmaster Flash rhyme, or maybe some Curtis Blow or something like that. I forget what it was but I remember just thinking, 'I'm sitting here watching Ice Cube rap the message' – it was crazy.
Check www.iambriggs.com for Briggs's latest tour info.