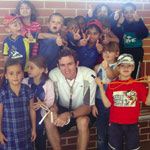 Name: Mathew Healy
Mount Magnet is a small, isolated community 600km north of Perth. The town has one school, Mount Magnet District High School, which has 160 students from Kindergarten through to Year 10.
Matthew Healy is the school's health and physical education teacher. It's a job that covers a lot more than just T-ball and the five food groups – Matthew wants to make a real difference to his students' lives.
"I want to make sure that these kids realise that they can go so much further than Mount Magnet," he says. "I'm basically trying to bombard them with as many opportunities as I can."
Mount Magnet District High School is Matthew's first teaching post.
"I liked the idea of teaching, because I used to coach sport and I really enjoyed that," he says. "I like working with kids, especially the primary kids – they are so funny!"
Originally from Perth, the 24-year-old suffered a bit of culture shock when he first arrived at the tiny mining town, but he now seems to have settled in quite happily.
"Everyone in Perth is always rushing around everywhere," Matthew says. "Out here, everyone knows everyone and we take the time to stop and chat. It's a really friendly, close-knit community."
Within school hours, Matthew teaches his students about the importance of a healthy lifestyle. He recently ran some drug and alcohol programs to educate his students on the dangers of drinking, smoking and illicit drug-taking.
"The response was really good," he says. "The students asked a lot of questions, and you could tell that it made a real impact."
Outside of school hours, Matthew is just as busy. Over the past year, he has been working with the town's youth officer to set up programs and after-school activities.
"When I first got here, all the kids did was play basketball," he recalls. "The town used to be bigger, but since it became fly-in/fly-out, most of the families have moved elsewhere. That meant that most of the sporting clubs and activities that were here kind of died out.
"Now we've set up netball teams and a footy comp. We've also done up the youth centre to give the kids a place to go after school. Basically, they just need things to do."
Since Matthew started his job at the beginning of last year, he has seen some real changes around him.
"Juvenile crime in the town has dropped and self-esteem is way up," he says. "At the end of the day, it's great to look back on all the work we've done and see how it's made a difference."