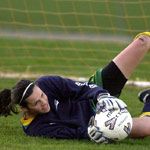 Pride of the Deadlys
Deadly Vibe Issue 116, October 2006
She's young, she's strong and now she's officially Deadly.
She may only be a teenager, but Matildas goalkeeper Lydia Williams stoo d t all at this year's Deadlys, becoming one of the youngest-ever recipients of the Female Sportsperson of the Year award.
Over the past 12 months, Lydia has had plenty to be proud about. Not only was she a part of the Australia Women's Soccer team who toure d t he US and Mexico in late 2005, she also took part in the AFC Asian Women's Cup, which doubled as qualifiers for the World Cup. She also journeye d t o Russia to take part in the Youth World Cup.
To put the finishing touches on a whirlwind year, Lydia was named the 2006 Female Sportsperson of the Year at this year's Deadlys " not a bad effort for a 17 year-old.
"I'd like to thank everyone who has played a part in making this event tonight," Lydia said. "It's awesome to give all us Aboriginal people a chance to represent who we are. Thank you very much.
"I'd also like to thank my mum and my family for being there with all the support throughout the years. I wouldn't be here right now if it wasn't for them.
Finally I'd like to thank my friends, my teammates and my coaches, because without them I wouldn't be in this position to represent my country, which makes me so proud."