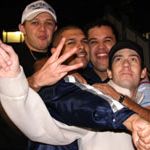 Deadly Vibe Issue 114 August 2006
Local Knowledge Call it a Day
One of the most successful Indigenous groups in Australia has parted ways. But it ain't all over for this band of brothas.
Back in 2002, brothers Abie and Warwick "Wok" Wright approached Joel Wenitong about forming a hip hop crew. All three shared a common passion for producing and performing hip hop music, and Joel also had his own studio.
What eventuated was the most popular and successful Australian Indigenous hip hop crew ever; a proud, community-minded Aboriginal trio who aptly calle d t hemselves Local Knowledge.
The three began taking their message to Indigenous communities aroun d t he country, picking up a fourth member, DJ Jaytee along the way. The crew broke into mainstream radio waves, collected a swathe of awards, rocked sold-out concerts earne d t hemselves an army of fans.
But four years on, Local Knowledge have decide d to call it a day. Joel has now teamed up with his sister Naomi, formerly from Shakaya, while Abie and Wok have formed a new group, Street Warriors.
"We had a blast," says Abie of his time with the group. "We were the first to combine hip hop with Aboriginal culture, and now there's plenty of brothers and sisters out there shaking a leg and having a goo d time."
Two of Local Knowledge's top achievements include Indigenous Band of the Year at the 2004 Music Oz Awards and the 2005 Deadly Award for Band of the Year.
Indeed, Local Knowledge were trailblazers in many regards. They lai d the groundwork for Indigenous hip hop performers across the country to fin d their own voice, unclouded by the often overbearing American element inherent within hip hop culture.
"We didn't want to become clones of the African American hip hop scene," Abie explains. "We wante d to put out something that was true to us; something that our people could be proud of.
"I think we achieve d that. And now Wok and I want to go on an d take it to another level."
In their time, Local Knowledge became synonymous with Indigenous pride, speaking out about many issues that affect Indigenous people. And while they may no longer be performing, their legacy and message will certainly live on.
Abie and Wok are intent on maintaining the same kind of energy, content and message that became synonymous with Local Knowledge.
"It going to be the same message but with more energy," Abie says. "We're going to take it to a higher level. We're already three quarters of the way into our album and hopefully we should have it released by the end of the year."
The brothers have been busy jetting from state to state, working with several producers, and intent on equipping themselves with the best hip hop beats and production currently on offer.
"We've been spending some time in Melbourne working with a producer called Jay C who has won best R&B producer at the Music Oz awards for the past two years," Abie says. "So we're really getting the best production an d t he best beats available."
Local Knowledge were always a tightly knight group, an d the four parted ways on goo d terms, all of them optimistic about what the future may hold.
The break up of Local Knowledge has also coincided with that of another successful young Indigenous group, Shakaya. Joel has now teamed up with sister Naomi and Jaytee to form Last Kinection, and the group has already started performing.
"We are all definitely still close," Abie says. "In fact, we just performed with Joel and his sister Naomi at a NAIDOC show in Newcastle, so it's all good."
So while Local Knowledge may be no more, the fellas are still out there doing what they do best – telling it like it was, how it is and how it should be.
(Story 1/8/2006 end)
Deadly Vibe Issue 109 March 2006
Road Warriors
Wok from Local Knowledge talks about life on the road.
Over the last three months, hip hop crew Local Knowledge have embarked on their longest and most expansive tour since the group formed in 2002. It saw them travelling to gigs all along East Coast and in regional New South Wales, as they took their message into some uncharted territory.
From Wagga Wagga to Dubbo and Melbourne to Brisbane, the guys have played in front of larger mainstream and non-hip hop audiences for the first time.
"We've had a really positive response," Wok says. "The crowds have been up and down, but overall it's been good. Even people who aren't really into rap or hip hop have come up and told us how much they enjoyed the show.
"You know, we put a lot of effort into our live show and I think that comes through. Along with the cultural aspects and the message we try to communicate, and people appreciate that."
Because of family and work commitments, the boys have been flying out of Newcastle every weekend, and while the tour has been a buzz, the obvious downside is missing their family and community.
Another less glamorous aspect of being part of a touring group is practically living out of each other pockets, and Wok has to think for a moment when asked who has the most annoying habit on tour.
"I think all of us get a pretty annoying in our own way," Wok says with a laugh. "But if I had to pick out one thing it would be our DJ Jay Tee. He just never helps us to pack the gear up after a show!"
A main feature of a Local Knowledge show is the energy they bring to the stage. There's more jumping around than a House of Pain video clip, and the energy is truly infectious " the crew excites the crowd like few other hip hop acts in Australia today. But if you thought the boys were totally different off stage you might be in for a surprise.
"I think what you see is pretty much what you get with us," Wok admits. "We bring a lot of energy to the stage, but that's how we live our lives. When we perform, you're seeing what we're all about " just rappin' about ourselves and our culture, staying proud and black. The confidence we have on stage is pretty much with us all the time.
"Off stage we yarn, have a laugh, have fun, just like any normal blackfellas."
While hip hop may take up a huge part of all the three of their lives, they all have passions, responsibilities and interests that stretch far beyond the stage.
Joel is a lecturer in Indigenous Health and Education at Newcastle University, while Abie's passion outside of music is cultural and language revival, as well as being a full-time dad. Wok works in admin for the CDEP while Jay Tee is the DJ at a local club in Newcastle.
The three are also a very tight-knit group, with a bond that has roots not only in music but also in culture and family. For Wok, the strong connection between them all comes down to respect.
"Respect for each other, that's the major thing," he says. "We all know each other a lot better now as well. We know all of each other's different sides, and we respect our differences. I think that's the important thing."
(Story 13/2006 end)
Deadly Vibe Issue 104, October 2005
Band of Brothas
Telling it how it is " Local Knowledge are officially Deadly.
The strength and popularity that Indigenous hip hop has gained over the past few years became all the more evident at this year's Deadlys, with Newcastle crew Local Knowledge winning Band of the Year.
The boys were nominated for the award alongside super-hot songbirds Shakaya, the mighty Donovans and the Stiff Gins, and were not for one moment expecting a win.
"We just came down here to hang out with the mob," band member Joel said after the award ceremony. "We never thought for a second we would win."
Abie was also delighted about the win.
"Just thinking how last year we were up for Most Promising New Talent, and now this year we've won Band of the Year " it's just amazing," he said.
Things have certainly come together for the guys in the past year. NAIDOC week saw them become the first Indigenous hip hop group to perform Live at the Wireless on Triple J. Then earlier this year Wok, Abie, Joel and new member Jay Tee received the Musicoz award for Best Aboriginal and Torres Strait Islander Artist.
The crew has also been picked up by producer Jamie Hilton, who has worked with Blink 182, Thirsty Merc, Butterfly Effect and Shakaya. Jamie shot and produced the film clip for their first EP, Blackfellas.
(story date October 1, 2005 end)
Deadly Vibe Issue 101 July 2005
Then there were four
Three deadly MCs and one DJ tell it like it was, how it is and how it should be.
Local Knowledge have taken their powerful hip hop sounds one step further with the recruitment of a fourth crew member " beat maker, producer and turntables extraordinaire, Jay Tee.
Jay Tee's unique scratches, beats and melodies are the perfect accompaniment to Wok, Abie and Joel's politically and culturally motivated lyrics.
The foursome has been appearing all over the place in recent months, both performing live and conducting workshops for community groups across NSW. This month Local Knowledge become the first Indigenous hip hop crew to perform Live @ the Wireless on Triple J.
The crew has also been picked up by producer Jamie Hilton, who has worked with Blink 182, Thirsty Merc, Butterfly Effect and Shakaya. Jamie will be shooting and producing the film clip for their first EP, Blackfellas, which is due out in August.
(Story 1/7/2005 end)
Deadly Vibe Issue 95 January 2005
Knowledge is power
This hip-hop crew is on the way up.
Newcastle hip-hop trio Local Knowledge got the shock of their lives last month when they won the CAAMA Music Best Aboriginal and Torres Strait Islander Artist Award at the Musicoz awards last month.
The Musicoz awards are dedicated to promoting independent Australian artists, and are open to all unsigned songwriters, bands, singers and musicians.
"It was pretty amazing to win," says Joel Wenitong who, along with crew members Wok and Abie Wright, attended the award ceremony at the WIN Entertainment Centre in Wollongong, NSW. "We really weren't expecting to win " we're still all pretty freaked out about it."
The ceremony, which included performances by Aussie acts Jebediah and Regurgitator, was attended by more than 2,000 people. It was also later telecast on WIN Television.
"It was a really good night," says Joel. "It was funny – the blackfellas were the only ones who dressed up. We all wore suits and Michael O'Loughlin and Adam Goodes, who presented the award to us, were also wearing suits so we looked pretty sharp up there " it was mad."
As part of their award, the guys received a Rode NTK microphone worth $1,200 and a 12-month recording deal with CAAMA Records.
"The record deal takes a lot of weight off our shoulders," admits Joel. "Now we can record our album. We'll be recording about 12 to 15 tracks over the next three months, and then we'll take it on a national tour."
So keep your eyes peeled, Local Knowledge fans, because your favourite hip-hop realists could be heading your way soon. For more info on the guys, check out their website at www.localknowledge.org/home.htm
(story 1/1/2005 end)
Joel Wenitong-Rios, Abie Wright and Warrick Wright are the Indigenous hip-hop realists Local Knowledge. Based in the Hunter region, they aim to entertain while educating the Indigenous and wider communities on Indigenous issues past, present and future.
Local Knowledge was born in March 2002 when the Wright brothers approached Joel with some lyrics and ideas. They knew Joel had similar ideas, experience, passion, knowledge "¦and a studio. Collectively, they aim to share their knowledge and to teach culture through intelligent rap.