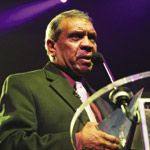 Deadly Vibe Issue 104, October 2005
King of the Ring
A true legend of Australian boxing received the Deadlys' highest sporting honour.
Indigenous Australians have long excelled in the sporting arena, and there are countless champions of the past and the present who we can proudly claim as our own.
The Ella Lifetime Achievement Award for Contribution to Aboriginal and Torres Strait Islander sport was created to celebrate that fact, and this year the award recognised one of our greatest ever sporting heroes " Lionel Rose.
Lionel was the first-ever Aboriginal and the second-ever Australian to win a world title when he defeated Japanese world champion Masahiko "Fighting" Harada. He successfully defended his title twice, and was named Australian of the Year in 1968 " the first Aboriginal person to receive this honour.
Lionel finished his career with a record 53 fights, 42 wins and 11 losses. He holds a privileged and iconic status within Australian sport as one of the country's greatest ever fighting champions.
Lionel accepted the award from Glen, Gary and Marcia Ella as the crowd stood for the second standing ovation of the night. His humble speech of few words only served to further endear this great champion to the people of Indigenous Australia.
(story date October 1, 2005 end)
Deadly Vibe Issue 102 August 2005
King Hitter
He made it to the top despite the odds " Deadly Vibe salutes two of our greatest Aboriginal boxing champion.
Back in the late 1960s, a shy 19-year-old by the name of Lionel Rose capture d t he imagination of the Australian sporting public by rising from poverty and obscurity to become the Bantamweight champion of the world. In doing so, Lionel became the first-ever Aboriginal world champion and earned himself a place in Australian sporting folklore.
While there had been many great Indigenous boxers before him, Lionel was the first to become a star on the world stage, and he pave d t he way for the successes of all Aboriginal boxers who have followed since.
27 years after his worl d t itle triumph, Lionel's epic rise to boxing superstardom was portrayed on film. Rose Against the Odds celebrated Lionel's amazing rise to the top of world boxing, and also chronicled his other great fight outside of the ring " his battle against alcoholism.
Now, 20 years after the original release of Rose Against the Odds, a whole new generation of young Indigenous people can relive the story of one of our greatest heroes, with the movie recently being released on DVD.
(Story 1/8/2005 end)
Deadly Vibe Issue 61 March 2002
He Rose, He Conquered
When bantamweight boxer Lionel Rose beat Japan's Harada to take the world title in 1968, he achieved something no Aboriginal boxer has managed since. As part of our Deadly Vibe boxing in focus edition, we salute a national icon who loved to sing a song as much as win a match.
Koorie man Lionel Rose first put on a pair of boxing gloves when he was 14 years old. Little did he know that five years later he would be world bantamweight champion. Winning the hearts of an entire nation coming to terms with the fact that the times were indeed a-changing, Lionel was arguably Australia's first Aboriginal sporting hero.
But fighting wasn't the only talent with which Lionel was gifted. He was also a musician, and a good one at that. Lionel first appeared on TV in 1969, singing "Pick Me Up on Your Way Down" on variety show Sunny Side Up, accompanying himself on the guitar. It might have been merely a hobby, but Lionel became a well-known musician as well as a national sporting icon.
"Music was a part of my life even prior to boxing. Most of my family play instruments, and they all sing," Lionel said in Buried Country, a book about the history of Aboriginal country music.
Lionel was born in Warragul, Victoria on 21 June 1948. Soon after his birth, the Rose family moved to Jackson's Track outside of Drouin, Victoria where he grew up with his eight brothers and sisters.
Boxing was an extremely popular sport in Victoria in those days, with fight nights held in Melbourne every Monday night. And when a 10-year-old Lionel witnessed Australian lightweight champion George Bracken dance around the ring at Melbourne's Festival Hall, he realised he too wanted to box.
"I'd seen plenty of tent fights when I was younger, but the great George Bracken was the first boxer I saw in the ring," he says. "His great fighting style and speed really made me take an even bigger interest in boxing than before. George had an enormous impact on my career, the biggest of anyone I have met."
While two of his younger brothers were also keen boxers, it was Lionel who devoted himself thoroughly to the sport. And his devotion paid off. By the age of 15 he was the national amateur flyweight titleholder. Turning professional soon after, he was Australia's bantamweight champion from 1966 to 1969.
The zenith of Lionel's career occurred in 1968. The young 19 year old was in the best shape of his life and ready to take on the world. And so it was announced that Rose would go head to head with defending world bantamweight champion Masahiko 'Fighting' Harada of Japan.
Lionel went to Tokyo six weeks before the fight to prepare himself. Whatever he did, it worked. Lionel won the match, which stretched to 15 rounds, and was declared world bantamweight champion.
Upon his return Rose was met by a quarter of a million Victorians who had lined the streets of Melbourne to welcome home their hero.
"It was simply unbelievable," he recalls. "To fulfil my ultimate dream and then be met by so many people was amazing. My picture was all over the newspapers and it made me realise how much it meant to everyone."
Lionel was named Australian of the Year (the first Aboriginal person to receive this honour) in a ceremony conducted by Governor-General Richard Casey. Many people regarded him as a symbol of a promising future for Indigenous people in Australia, including a young Evonne Goolagong.
"I wasn't aware of the impact that I had made on the lives of Aboriginal people until I did a bit of travelling and visited various communities throughout Victoria. To see the way that my people looked at me and to know that I made a difference to them was an honour."
After losing the world title in 1969 Lionel decided to retire and instead pursue music full-time, which only made him even more famous. People loved the little champ wherever he went and of course they all wanted to shout him a beer. It proved a dangerous course for Lionel, as he wasn't one to turn down a shout.
In between the gigging and the drinking, not to mention a spell with Ashton's Circus, Lionel met producer/songwriter Laurie Allen, who subsequently oversaw his landmark album, Jackson's Track. This country-flavoured disc was full of Lionel's past, as evident from the words in the title track, "If only I could, I'd turn the time back." Lionel seized the opportunity to speak honestly and openly about where he'd come from and where he was going. To this day, many country aficionados consider the album "a lost classic".

Lionel made a comeback in 1975, but retired for good the following year after a less than dazzling season. Though his musical career did give him an industry profile, his name remains synonymous with boxing and that world title he claimed the year after the 1967 Referendum. All up, his career consisted of 53 fights, of which he lost only 11. Awarded an MBE for services to sport, Lionel remains the only Aboriginal boxer to have won a world title.
(Story 1/3/2002 end)