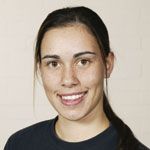 Deadly Vibe Issue 106, December 2005
Darting to Success
Another Indigenous netball talent has emerged in the shape of Kirby Bentley.
The Australian Institute of Sport (AIS) Canberra Darters has recruited a second Indigenous player. Kirby Bentley, a 19-year-old from Mount Barker in Western Australia, was selected for the squad in April of this year, joining junior Australian champion netballer Bianca Franklin who is in her third season with the team.
Kirby was awarded a scholarship to the AIS earlier in the year, and her call up to the Darters has been the sweet icing on an already delicious cake. The team competed in this year's Commonwealth Bank Trophy national competition, and finished the season in seventh position having won two games.
"I was so thrilled to be selected in the Darters squad," says Kirby, who plays in centre court. "It's been a great opportunity to develop my game and to gain valuable experience at the top level."
Kirby has come up through the netball ranks at an impressive pace. As part of the Australia Sports Commission's Indigenous Sport Development Program, she won an Indigenous Sporting Excellence Scholarship, which is designed to enhance the training and development of talented indigenous athletes at the elite level. She also participated in Netball Australia's 19-and-under Talent Identification Squad.
At the age of 15 she won selection to the Western Australian 17 and under netball team and the national 17 and under squad, and won the 2001 Junior Noongar Sports Star Award.
From 2002 to 2004 Kirby played for the Perth Orioles. Her move to Canberra this year means that Kirby's dream is even closer to fruition, and she plans to make the most of this golden opportunity.
(story date December 1, 2005 end)