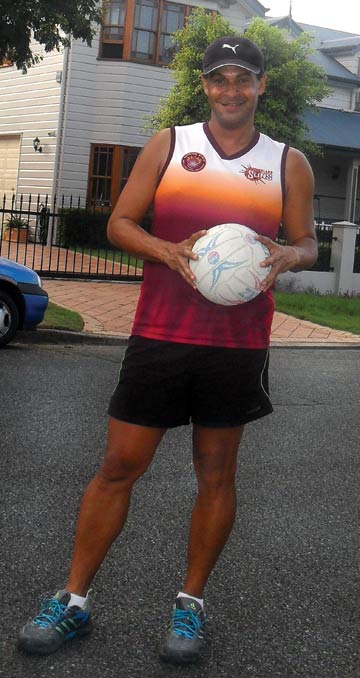 Former Indigenous netballer, Mohnte Namok is scoring some major goals these days – not as a player, but as a coach. He recently coached the Australian men's under-19 netball team that thrashed New Zealand in a three-test series. As such he is a rising star in Australian netball coaching ranks.
Mohnte Namok, 36, grew up in Cairns but now lives in Brisbane. He played netball at an elite level for many years – including representing Queensland. He got into coaching while nursing an injury and found that he had a special talent as a coach.
Mohnte first discovered netball during a Physical Education class at high school when he was about 14 years old.
"As a youth, I played netball socially until I finished high school, but then I wanted to pursue it more seriously and I got into my first Cairns representative side in 1996.
"I moved to Brisbane to live in 1998, and I have been playing both indoor and outdoor forms of the game since then. I made the Queensland team about 10 times, until I was forced to retire from playing two years ago through a knee injury.
"I got into coaching when I was having some time off because of this injury. I started coaching the Queensland Under-23 men's rep side to the Nationals in 2010. I realised
I had a talent for it," he says.
"As a coach I try to convey to each player how I used to train. Coming from Far North Queensland you had to push yourself extra hard. I put that into my coaching. I have a philosophy that we are at training to do not 100% but 110% – that's the extra you have to do to succeed and it makes my players work even harder."
In 2011, Mohnte took the Queensland Under-19 team to the Nationals.
"No-one had beaten the Victorians before. We lost by three points but it was a great match.  At the time they were selecting an Under-19 Australian team to tour New Zealand and I got the nod to coach this Australian side for the trans-Tasman tour," he says.
"We went to New Zealand in October 2012 – we had a three-test series. We won all of the games by increasing margins and we really smashed them in the last match, 70–18. But that score line did not reflect how well New Zealand played. Our players were just super fit from the training camps I made them attend."
At the moment, Mohnte is training the Queensland Under-19 team to go to the Nationals at the end of March. Then he is hoping to be named as the coach of their tour to Malaysia at the end of the year.
"Netball has taken me to every state in Australia and now it is taking me overseas. As a player I particularly enjoyed going away to play. You were with your mates and it was like a holiday where you enjoyed what you were doing every day. I enjoyed the team aspect of it. We bonded a lot," he says
"I used to get PND –'Post Nationals Depression' – when the Nationals were over. You were away that long with each other and it was great fun."
Mohnte says his main goal as a coach is to keep improving and moving up the coaching ranks.
"I try to get better every year as a coach. I like to bring something new to the table each year. I look at other sports for ideas – you can watch AFL and get a few pointers. In Victoria, AFL players play netball in the off-season and it shows with their aerial skills. Men's Netball is quite physical and aerial and really fast, so it has similarities to AFL."
Mohnte is a great role model and he has the respect of his team, his committee, his friends and family.