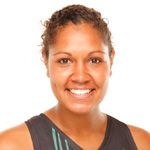 Stats
Height: 185cm
Weight: 82kg
Age: 21
Mob: Torres Straight Islander (Thursday Island)
Position/s: GD (Goal Defence) and GK (Goal Keeper)
Nickname: Josie, JJ, or Jose
Pets: None at the moment, but I had a pet rabbit once called Benny.
Brothers and sisters: I have an older brother, Michael, and a younger sister, Alicia.
How long have you played netball for?
13 years, I started playing when I was eight.
How did you get involved in netball?
My mum used to play in local derby teams and they had two junior teams that played every Saturday morning, so I played in them until I was 13 and old enough to play against the women. We had a young girls' team called the CCs.
What do you love about the sport?
Every game is different in netball. I used to love athletics and swimming, but the events were always the same. In netball I come up against different players and get to do some exciting moves like rejecting a shooter's shot on goal. That's quite hard to do in netball, because, you have to launch yourself into the air from three feet away, plus your timing has to be spot on with the release of the ball so you don't 'contact' your opponent.
What is your best sporting attribute?
My attacking skills and ability to link up with the other players to get the ball down the court to our shooters. I concentrate on my defence and passing skills, because it's hard on me and my team when the ball is turned over.
Why do you think you made West Coast Fever?
I was offered a spot in our team because the coach at the time thought I had an exciting flair that would suit playing the New Zealand teams. Now I hope everyone can see the potential in me as a great defender, because I want to achieve my dream of becoming Australia's best defender.
What does an average training session involve?
It depends on the time of year, but we always start every session with a warm-up. Before the season starts we do a lot of running and ball handling drills so we can improve our fitness and skills. During the season we do a lot of drills where we practise moves that we'll do later in a game. After our warm-ups, we always start training with a game so we can get the laughs out of the way and get down to the serious stuff.
What's your favourite form of training?
Our pre-season fitness sessions – they are really hard! You get to see the progress you're making by running faster or longer than you did the session before. Gym sessions are good too, because we mix weights with dance moves that I teach the girls . . . we crank up the iPod and have dance-offs!
What does your training diet consist of?
Like our training, it changes a lot! But mostly it's a massive bowl of cereal for breakfast, a chicken-and-salad-roll for lunch and a big bowl of pasta or meat and vegies for dinner. If I want a snack, I always keep them sugar-free and have a tub of yogurt, or a tin of tuna, or some wholemeal crackers. I also love to eat a lot of fruit.
What about drugs and alcohol?
I stay away from drugs and alcohol because they can affect not only yourself but everyone around you, your family, friends and community. Crime, violence, family breakdowns and road crashes are just some of the risky activities that occur because of people being drunk and under the influence of drugs. You might think it won't happen to you, but don't wait until it does before you change your mind, learn from other peoples mistakes.
Do you have a favourite cheat food or way to vary your diet to get your favourite food in?
Well if I feel like a pizza, I buy wraps and use them as pizza bases then I put all my favourite toppings on them like chicken, low-fat cheese, pineapple, rocket and tomatoes. Instead of eating a chocolate bar I wait and have a hot chocolate drink with low-fat milk before going to bed. Much better for you than late-night snacks!
What advice do you have for youth on health and sport?
Play as many sports as you can when you are young. You'll pick up a lot of different skills along the way and eventually find the sport that's right for you. The skills you gain from different sports may make you stand out from the boy or girl next to you when it comes to making rep teams. Being active is the main thing, no matter what level of fitness you have. If you don't like playing team sports, then go for walks down the beach or to the park.