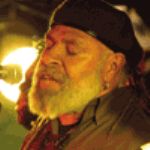 Musician and artist King Kadu (aka Ricardo Idagi) hails from Murray Island in the Torres Strait. A resident of Melbourne for the past five years, he has just released his debut album, Listen to My Drum.
In case the title doesn't it give it away, Kadu is a drummer. His drum of choice is the Kundoo, which originates from Papua New Guinea and was traded in the Torres Strait for shells, cassowary feathers and ochre.
Listen to My Drum sees ragtime and funk combined with traditional chants and harmonies to produce a musical rhythm that transcends cultural boundaries.
Accompanying Kadu on this energetic musical outing are John Betros and Paul Dalby on lead guitar, Tony Hargreaves on accordion, Chris Pascoe on keyboards, and Wayne Watibalimba Thorpe on gum leaf and didj.
The record also features backing vocals from Lou Bennett (Tiddas), Carole Fraser, and Vika and Linda Bull, while Killing Heidi's Warren J provides bass on "Ju Ju Jive".
"This recording reflects a journey of song and dance," says Kadu, who wrote all but one of the album's 14 tracks. "From international kinship ties and the working songs of the pearling and fishing industries, to the influences music had on the community from the 1920s to the 1950s. These stories and songs are strong and still alive today. They are contemporary snapshots of Murray Island life."
And what better time for a Torres Strait Islander to release his debut album than during the 10th anniversary of Mabo? Launching the CD in Melbourne was none other than Aunty Bonita Mabo.
"I was very proud and honoured to have Aunty Bonita there on the day of the launch," says Kadu.
Kadu has been banging his drum for quite a while. One of his musical highlights so far was playing backup for Bob Marley's band the Wailers in Cairns in 1989.
As Ricardo Idagi, Kadu is also an acclaimed visual artist whose work has been purchased by the National Gallery of Australia and the National Gallery of Victoria. He has exhibited at the Linden Gallery, the Koori Heritage Trust, and a number of overseas locations.
So what's with the name? "King comes from all my nephews and nieces," he says. "I would sit on the water's edge and wait for them to catch a fish. When they did I'd give them a dollar " hence the name King. It just stuck from there on." And Kadu? "That was the name given to me by my grandmother, Tulu Tapim."
Kadu says he relocated to Melbourne because his girlfriend moved there to study Meryammir, the language of the Magaram tribe. And in spite of moving from the very tip of Australia to the very bottom, Kadu is happy to be sharing his music with a wider audience.
"I want to break down barriers with my music," he says. "I want to use music as an instrument for my message. My songs are really just the stories of my paintings."
>Deadly Vibe Issue 77 September 2003
From Murray Island at the northern tip of Australia to the city of Melbourne he now calls home at the very bottom, King Kadu's musical journey has been a memorable one.
After releasing his first album Listen To My Drum, which infused traditional and contemporary Torres Strait Islander music with a range of other genres, Kadu has kept those creative juices flowing.
Apart from being one of 10 artists in residence at the Melbourne Aquarium, where he paints, conducts storytelling and teaches culture and dance, he has been busy writing and laying down tracks for his second album.
Kadu relished the creative avenue that his first album gave him, and it has fired his motivation for future work.
"For a long time I played in bands doing cover songs for other artists," Kadu says. "But what I really wanted to do was pursue music that I could put more of my own emotion into. It took me years to finally start making my own songs to get my feelings out and into my music, and now I can't stop. I'm writing new songs every week. The creativity involved is a great buzz to me."
This time around, Kadu's creative energy is taking him in a slightly different direction to his previous work, as would be expected of a musician who has always drawn heavily upon his environment for motivation and is constantly incorporating new influences into his music.
"My first album was much more about myself and my own personal discovery," says Kadu. "The next one is more about healing and reconciliation, more about awareness of the past and of tribal values. I want my music to encourage kids back at home to regain their tribal pride. In this way, it is much more for other people this time, and opening the minds of others."
Although Kadu now lives far from his spiritual home, his tribal pride is never far from his own heart. The motivation it gives him is ever-present in his music.
"Living so far away from home makes me realise even more how precious our stories and our culture is," he says. "Looking at all the children who have no opportunity back at home, I consider what I am doing as way for me to open up windows for them in the future."
King Kadu has certainly made the most of his opportunities, and set a great example to his people back home by releasing an impressive debut album with a bevy of established musicians and singers.
"The greatest thing in my career has been getting to play with well-known artists," Kadu says. "I recently performed at the Trades Hall in Victoria with Shane Howard, Vika and Linda Bull, Lil G and The Sweet Cheeks. After all this time, I still get really nervous about performing, but after the show it's a great feeling."
Kadu makes the most of the opportunities to work with other Indigenous artists and he enjoys using the experience to inspire his own work.
"Recently I have had some exposure to young Koori rappers, like Lil G," Kadu says. "Working with young people is really exciting to me, and I would love to incorporate some young rappers into my music."
With so many creative Indigenous artists about, Melbourne has been the perfect home for Kadu to continue his musical discovery.
"I'm not too sure what the future holds or even what I want from it," he says. "I'm just happy discovering more as I go.
"I've been in Melbourne for six years now – it's been really good to me. I'm not quite ready to go home just yet – well, maybe for a holiday."