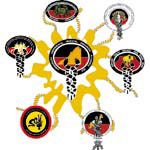 Established in 1986, the Kimberley Aboriginal Medical Services' Council Inc (KAMSCI) is a health resource body for a group of independent Aboriginal community-controlled health services (ACCHSs) in the remote Kimberley region of WA.
During its 16 years of operation, KAMSCI has played a major role in the development of medicine policy, resulting in a greatly improved supply of medicines to remote Aboriginal health services in Australia. Recognised nationally and internationally for their contribution to Indigenous health, in 1998 KAMSCI were invited to the International Indigenous Health Promotion Convention in Puerto Rico.
KAMSCI are pioneers in the evidence-based approach to Aboriginal health and were responsible for a textbook on Aboriginal primary health care published by Oxford University Press. The council has also carried out substantial research into youth suicide, releasing the Choose Life report in 1999 and the True Words, Real Life report into post-traumatic stress syndrome among Kimberley youth.